EasyStand Evolv Glider Large Standing Frame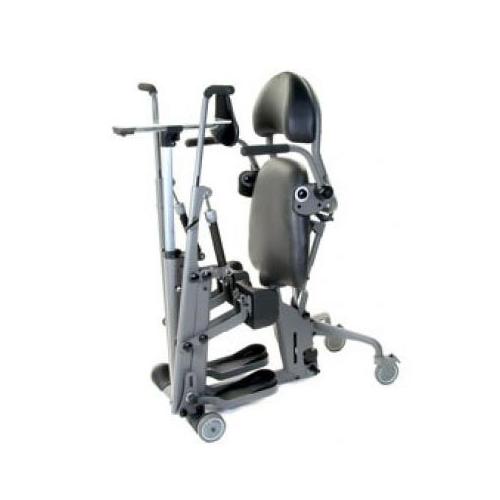 Manufacturer:
Altimate Medical - Easy Stand
Part Number:
PNG50024
Retail Price:
$8,452.00
Price:

$6,930.00

Ea
FEATURES
Upper body exercise is adjustable from mild to vigorous
Enhances the therapeutic benefits of standing
Use as a both a stander and an exerciser
Upper torso back support can be ordered as an option
DESCRIPTION
The EasyStand Evolv standing frame is a revolutionary medical standing product for the disabled. Now with a new full range seat that allows more range of motion than ever before. The Easy Stand Glider standing frame provides safe, dynamic leg motion and upper body exercise during standing therapy. Precise user positioning was achieved by relocating the pivot point of the stander to mimic the body's natural pivot point, minimizing shear and maximizing function.
Easy Stand Evolv Glider Stander is now the most modular stander to date; such configurations as the "active standing" Glider or the Shadow Support Tray can be added at any time. The open base and wider seat allow for easier transfers, both independent or with the use of a patient lift. By increasing modularity, making transfers easier, & minimizing shear, we have achieved our ultimate goal, to "make standing achievable for more people".
The ergonomically designed glide handles are linked allowing one leg to move forward while the other moves back. The geometric design of the leg support system prevents vertical shearing while legs are in motion. With its adjustable resistance, users can enjoy a mild or vigorous workout while enhancing the therapeutic benefits of standing. Unlike regular standing tables, the Easystand Evolv Glider option is an active exerciser.
---
The EasyStand Evolv Glider Standing Frame Includes:

Black Dartex upholstery
Two locking casters
Two wheels
A manual hydraulic actuator with handle
New Full Range Seat
Contoured seat
Flip-up kneepad
Adjustable footplates
A clear tray with chest pad


New Full Range Glider Seat for greater Range Of Motion. 30 degrees
REVIEWS
Please review this product!