JOBST UltraSheer Compression Hose Knee-Hi 15-20 mmHg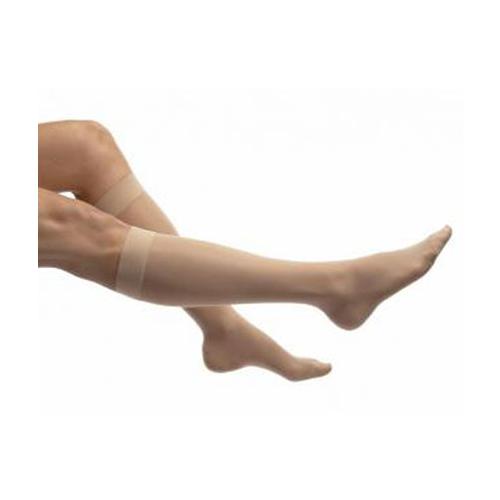 Manufacturer:
Jobst
Part Number:
119421
Price:

$53.00

Pr
DESCRIPTION
JOBST has developed the ideal combination of therapeutic effectiveness and sheer, lightweight fashionable appearance in UltraSheer Medical legwear.
This unique design is accomplished by knitting very fine uncovered spandex and nylon yarns with state-of-the-art computerized precision.
15 to 20 mmHg gradient compression sheerest in its class lightweight, breathable sheer fashion colors machine washable Knee High features a comfortable wide knee band.
---
Note: These are examples of reasons to wear this level of compression. Please consult with your physician for compression above 15-20 mmHg.
Discomfort from spider veins
Relief from minor leg swelling
Relief of tired aching legs
Relief of leg discomfort during pregnancy
Minor varicose veins
For wear following sclerotherapy
Available Colors:
Classic Black
Natural
Suntan
Sun Bronze
Honey
Anthracite
Espresso
Midnight Navy
SPECIFICATION
| | | |
| --- | --- | --- |
| Size Chart | Ankle Circumference | Calf Circumference |
| Small | 7 - 8 1/4" (18 - 21cm) | 11" - 15" (28 - 38cm) |
| Medium | 8 3/8" - 9 7/8" (21 - 25cm) | 11 7/8" - 16 1/2" (30 - 42cm) |
| Large | 10" - 11 3/8" (25 - 29cm) | 12 1/2" - 18 1/8" (32 - 46cm) |
| X-Large | 11 1/2" - 13" (29 - 33cm) | 13 3/8" - 19 5/8" (34 - 50cm) |
| Large Full Calf | 10" - 11 7/8" (25 - 30cm) | 18" - 24" (46 - 61cm) |
| X-Large Full Calf | 12" - 14" (30 - 36cm) | 18" - 24" (46 - 61cm) |