Pride Mobility OEM Replacement Parts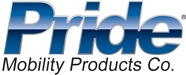 Whether it's a fix or just an upgrade, we want to help you get your Pride Mobility scooter, wheelchair or other device exactly the way you want it with OEM replacement parts made and shipped directly from the manufacturer. Please note: Orders can take up to 48 hours to be processed before shipping.
Use the model dropdown list or select your device from the product listing below then use the menu to find the exact part you need.
If you have any questions or need help finding Pride Mobility replacement parts you need, give us a call at 800-236-4215. We'd be happy to help.
Pride Mobility Lift Chair Parts
Pride Mobility Wheelchair Parts
Pride Mobility Quantum Parts
Pride Mobility Scooter Parts
Pride Mobility Wheelchair Parts