Southwest Medical
Your partner in health and mobility for over 25 years!
TOLLFREE: 800-236-4215
---
1. Choose Manufacturer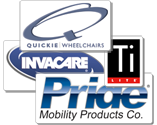 2. Choose Product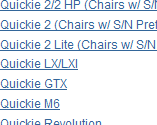 3. Select Part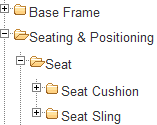 4. Add to Cart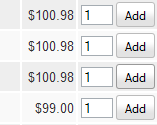 Power Wheelchairs
Power Wheelchairs are motorized versions of standard manual wheelchairs. Power chairs are available in a variety of styles with accompanying features to suit a user's needs.
Things to consider when selecting the right power chair
Travel/Full Size or Heavy Duty Power Chairs
Travel power chairs can be folded or disassembled for easier transport. Travel chairs tend to be smaller in size which makes them great for apartments and other small areas, but the travel distance between charges may be reduced due to a smaller battery.
Full size power chairs are a good choice for a user that will spend most of the day in their power chair. These chairs tend to have larger seats, armrests, footrests and additional padding for comfort.
Heavy duty power chairs have a reinforced frame, wider seating area and are intended for users with a need for a larger weight capacity. The wheels and casters for these chairs tend to be wider as well.
Front, Mid or Rear Wheel Drive
Front wheel drive chairs can maneuver over small obstacles, have a reasonable turn radius and allow for easier movement within a home or other smaller spaces. Front wheel drive chairs are suitable for indoor or outdoor use.
Mid wheel drive chairs have the best turning radius which allows for easiest maneuverability in limited spaces like apartments or shopping malls. These chairs are easy to use indoors and on flat surfaces but are more difficult to use over hills or on rough terrain.
Rear wheel drive chairs maneuver well over rough terrain making which makes them a good choice for outdoor use. These chairs tend to have a larger turning radius which makes them more difficult to navigate indoors.
Indoor/Outdoor use
For indoor use, make sure that your choice of power chair can easily fit through doorways. Keep in mind that armrests and the chair's joystick can extend beyond the base of the chair. Hallways should allow for the user to make 90 degree turns to allow for easier entry into rooms. Bathroom spaces tend to be the tightest fit so how will movement around the bathtub, sink and toilet work? If your home has a second floor or basement, you may have to consider a wheelchair lift as well.
For outdoor use, the rougher the terrain, the more a rear wheel drive chair may be needed. Looking for larger, wider wheels and casters as well as all terrain tires will smooth out the ride.
Controller options
Most power chairs will be controlled using a joystick and keypad. The joystick would control the direction and speed of the chair. The keypad could also control the speed as well as other functions like chair tilt. In most cases, constant pressure to the joystick/keypad is needed to propel the chair. Once pressure is removed, the chair will break. Depending on the physical condition of the user, other types of controller may be needed.