Soft Protective helmets are appropriate for soft protection required by children with Cerebral Palsy and Hemophilia.
Unlike Soft Shell Helmets, Toppen 77 Soft Protective Helmet is machine washable**, lightweight and well ventilated. With a blue nylon outside, and a red cotton inside, this helmet has remarkably durable, and will not tear like a foam helmet, nor will it retain heat like a foam helmet. Call for other sizes.
Not appropriate for contact sports.
**Machine wash cold water gentle cycle and line dry.
---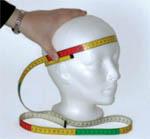 Measure circumference of head just above ears