ROHO Wheelchair Cushions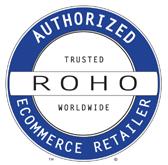 SouthwestMedical.com is your authorized ROHO Wheelchair cushion dealer.
Shape Fitting Technology - it's only air, but what ROHO does with it makes a world of difference.
There are no greater defenses against wounds and illnesses than those contained in the human body. But often these defenses need an ally. A partner in the healing process. ROHO DRY FLOATATION technology is that partner.
The soft, flexible, interconnected air cells that comprise ROHO DRY FLOATATION products are adjustable to provide a customized fit to a client's sitting or lying shape. ROHO cushions for pressure sores are the most prescribed wheelchair cushions by Physicians and Clinicians.
ROHO wheelchair seat cushions provide the pressure relief needed. ROHO's unique design allows the seat cushion to constantly adjust to a client's body movement. The adjustment and conformity of the cells accommodate and meet the one-of-a-kind skin integrity needs for each client throughout the day.