The Danmar Soft Shell Helmet is a pediatric protective helmet manufactured by Danmar Products. It is designed to provide superior protection and comfort for children. This helmet is made from 1/2" thick shock absorbing foam that retains compression resistance and does not break down even with multiple impacts. It is also vinyl coated with Fabricoat, so that no bacteria build-up can occur. The helmet is lightweight, averaging only 8 ounces, and is fully ventilated without compromising head coverage. No hardware is used anywhere on the foam shell, so that the facial area does not come into contact with anything hard or uncomfortable.
The Danmar Soft Shell Helmet is available in three colors: tan, royal blue, and pink. It also has an optional chin strap for added protection. It is easy to clean, just hand wash with warm, soapy water. Additionally, it is latex free, making it safe for those with allergies.
The Danmar Soft Shell Helmet is an excellent choice for parents looking for a protective helmet for their child. It provides superior protection and comfort, while still being lightweight and easy to clean. It is also available in a variety of sizes and colors, and has an optional chin strap for added protection. With its durable construction and latex free material, the Danmar Soft Shell Helmet is sure to provide your child with the protection they need.
---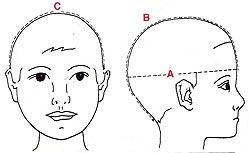 Since proper fit is important for the comfort of the person wearing headgear, measurements should be determined by professional personnel.

Measure the head circumference (A) at eyebrow level. Occipital measurement (b) is taken from eyebrow level to the back of the head at the point that the helmet is to end. Over the top of the Head (C) to top of ears.
If for some reason the measurements do not fall within the above guidelines, or if there are other considerations to be taken into account, please refer to the page for information on Custom Helmets.
Soft Shell Helmet Sizing:

Size

Circumference
(A)
Occipital
(B)
Ear To Ear
(C)
Infant
16.25-17"
11 1/2"
8 1/4"
xx-Small
17.5-18.25"
12 3/4"
9 1/2"
x-Small
19-19.75"
13 3/4"
9 1/2"
Small
20.75 - 21.5"
14 1/2"
10 1/2"
Medium
21.5 - 22.25"
15 1/4"
11"
Large
23 - 23.75"
16 1/2"
12"
x-Large
24-24.75"
17 1/2"
13"
xx-Large
25.5-26.25"
18 1/2"
13 3/4"
IMPORTANT:While we believe that headgear can substantially reduce the risk of head injury we emphasize that there is no known device for preventing all injuries. Only you the customer are in a position to evaluate the particularized needs of the individual client in each environment. It is essential that professional and medical expertise be utilized in rendering decisions regarding headgear use.