JOBST Ultrasheer 15-20 mmHg Thigh High w/ Silicone Dot Band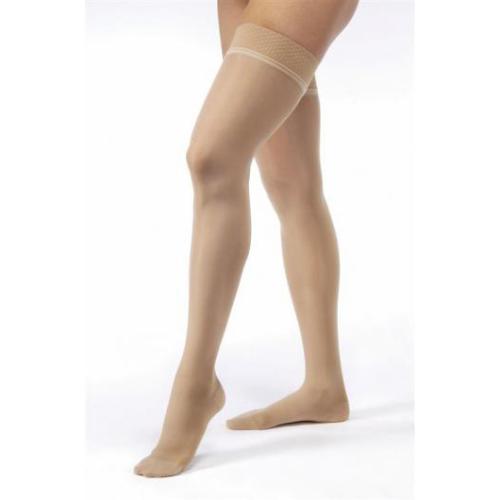 Manufacturer:
Jobst
Part Number:
122304
Price:

$71.00

Pr
DESCRIPTION
JOBST UltraSheer is indicated for expectant mothers with tired, aching legs, minor ankle, leg and foot swelling and minor varicosities during pregnancy. Fashion and efficacy rolled all into one. JOBST UltraSheer is the sheerest compression stocking in its class. Lightweight, comfortable and highly effective in optimizing leg health.
---
Note: These are examples of reasons to wear this level of compression. Please consult with your physician.
Discomfort from spider veins
Relief from minor leg swelling
Relief of tired aching legs
Relief of leg discomfort during pregnancy
Minor varicose veins
For wear following sclerotherapy
Available Colors:
| | | | |
| --- | --- | --- | --- |
| Classic Black | Natural | Suntan | Sun Bronze |
SPECIFICATION
| | | | |
| --- | --- | --- | --- |
| Size Chart | Ankle Circumference | Calf Circumference | Thigh Circumference |
| Small | 7 - 8 1/4" (18 - 21 cm) | 11" - 15" (28 - 38 cm) | 15 3/4" - 24 3/8" (40-62 cm) |
| Medium | 8 3/8" - 9 7/8" (21 - 25 cm) | 11 7/8" - 16 1/2" (30 - 42 cm) | 18 1/8" - 27 1/2" (46-70 cm) |
| Large | 10" - 11 3/8" (25 - 29 cm) | 12 1/2" - 18 1/8" (32 - 46 cm) | 21 1/4" - 30 3/4" (54-78 cm) |
| X-Large | 11 1/2" - 13" (29 - 33 cm) | 13 3/8" - 19 5/8" (34 - 50 cm) | 23 5/8" - 32" (60-81 cm) |