PediaSure with Fiber TN - Institutional 8 oz. Can - Vanilla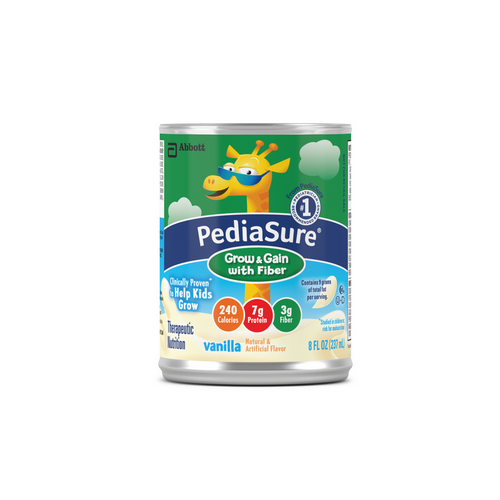 Manufacturer:
Abbott Nutrition
Part Number:
5267529
Price:

$71.95

Ca 24
DESCRIPTION
As a fiber-containing, nutritionally complete, balanced enteral formula especially designed for oral feeding of children 1 to 10 years of age. The fiber level in PediaSure With Fiber helps maintain normal bowel function. May be used as the sole source of nutrition or as a supplement. PediaSure With Fiber meets or exceeds 100% of the NAS-NRC RDAs for protein, vitamins, and minerals for children 1 to 6 years of age in 1000 mL, and for children 7 to 10 years of age in 1300 mL.
---
Precautions: Not intended for infants under 1 year of age unless specified by a physician.

Contains dietary fiber--1.2 g total dietary fiber (from soy fiber) per 8 fl oz.
Milk-based, complete, balanced nutrition--1.0 Cal per mL, 237 Cal per 8 fl oz, from a balanced caloric distribution of protein (12%), fat (44%), and carbohydrate (44%).
For oral or tube feeding.
Gluten-free and lactose-free. (Not for patients with galactosemia.)
Appropriate vitamin D content--51 IU/100 Cal meets children's needs better than most adult enteral products.
Calcium:phosphorus ratio of 1.2:1 meets recommendations by the American Academy of Pediatrics, Committee on Nutrition for growing children.
"Kid Approved" vanilla flavor encourages oral compliance.