Southwest Medical
Your partner in health and mobility for over 25 years!
TOLLFREE: 800-236-4215
---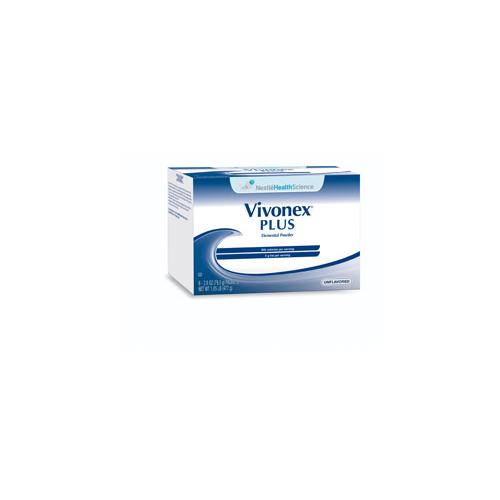 Manufacturer:
Nestle Clinical Nutrition
Part Number:
07129800
Price:

$105.00

BX 6
DESCRIPTION
VIVONEX PLUS formula is designed to contain low quantities of fat, which under some circumstances may be insufficient to meet the essential fatty acid (EFA) requirements. VIVONEX PLUS should be utilized only under medical supervision.
---
Ingredients(Unflavored): MALTODEXTRIN (FROM CORN), L-GLUTAMINE, MODIFIED CORNSTARCH, L-LEUCINE, L-ARGININE ACETATE, SOYBEAN OIL AND LESS THAN 2% OF MAGNESIUM GLUCONATE, L-LYSINE ACETATE, CALCIUM GLYCEROPHOSPHATE, L-ISOLEUCINE, L-VALINE, L-PHENYLALANINE, SODIUM CITRATE, L-THREONINE, POTASSIUM CITRATE, L-CYSTEINE HYDROCHLORIDE, CITRIC ACID, L-METHIONINE, L-TYROSINE, L-HISTIDINE HYDROCHLORIDE, L-ASPARTIC ACID, L-PROLINE, L-TRYPTOPHAN, DISODIUM PHOSPHATE, POTASSIUM CHLORIDE, CHOLINE BITARTRATE, L-SERINE, L-ALANINE, GLYCINE, ASCORBIC ACID, POLYGLYCEROL ESTERS OF FATTY ACIDS, TAURINE, L-CARNITINE, ALPHA-TOCOPHERYL ACETATE, ZINC SULFATE, POTASSIUM SORBATE AND BHA AND BHT AND TOCOPHEROLS (TO MAINTAIN FRESHNESS), FERROUS SULFATE, NIACINAMIDE, VITAMIN A PALMITATE, CALCIUM PANTOTHENATE, COPPER GLUCONATE, VITAMIN D3 , PYRIDOXINE HYDROCHLORIDE, MANGANESE SULFATE, RIBOFLAVIN, THIAMINE HYDROCHLORIDE, FOLIC ACID, CHROMIUM CHLORIDE, BIOTIN, POTASSIUM IODIDE, SODIUM MOLYBDATE, SODIUM SELENITE, PHYTONADIONE, VITAMIN B12
SPECIFICATION
| | |
| --- | --- |
| kcal/mL: | 1.0 |
| Caloric Distribution (% of kcal): | Protein: 17% |
| | Carbohydrate: 77% |
| | Fat: 6% |
| Protein Source: | free amino acids (30% from BCAA) |
| L-glutamine: | 9.5 g/L |
| L-arginine: | 6.3 g/L |
| NPC:N Ratio: | 115:1 |
| n6:n3 Ratio: | 7.0:1 |
| Meets 100% RDI for 24 key micronutrients: | 1800 mL |
| Osmolality (mOsm/kg water): | 650 |
| Water: | 83% |
| Suitable for these diets: | lactose-free, gluten-free, low-residue, kosher |