Manufacturer:
Danmar Products
Part Number:
9836
Price:
$104.00

Ea
DESCRIPTION
Soft 1/4" thick ventilated foam forms a cap for a newborn baby's head. It can be used in cases where the cranium has not completely formed, or after surgery when accidental bumping may occur, as well as during sibling interactions with the newborn when accidental touching of the sensitive area may occur.
A soft chin strap holds the cap in place. The cap can be trimmed in the front to adjust forehead height or in back to allow for occiput differences, but then the foam edge is not Fabricoated, however it is still waterproof and washable.
Latex Free.
---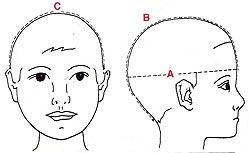 Small-- A. 13 1/2" B. 9 3/4" C. 7 1/2"
Medium-- A. 15" B. 10 3/4" C. 8"
Large--A.16" B. 11 1/4" C. 8 1/2"

REVIEWS
Please review this product!