Southwest Medical
Your partner in health and mobility for over 25 years!
TOLLFREE: 800-236-4215
---
Tumble Forms 2 Tristander 45 Pediatric Prone Stander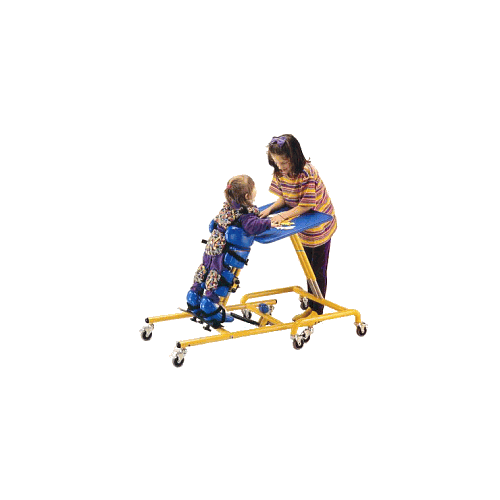 Manufacturer:
Tumble Forms 2
Part Number:
4525S
Retail Price:
$3,431.20
Your Price:
Out of stock
DESCRIPTION
The TriStander45 comes complete with frame, modular cushions, and tray. The child can be oriented in any angle from 15-90 degrees. The TriStander45 provides easy loading and adjustment for prone, supine, or vertical standing.
The frame is tubular steel with the comfort and durability of Tumble Forms shapes. The molded modules are seamless, impervious to body fluids, and wipe clean. They are adjustable cushions and secure the person at the trunk, knees, hips, and feet. Also, the positioning modules can be ordered separately allowing you to adapt the stander to your needs.
The frame is 21" wide x 37" long (53 x 94 cm) and has heavy duty institutional quality locking swivel casters. TriStander 45 fits children from 32" to 45" (81-114 cm) inches tall.
The Activity Tray provides a work surface for writing, playing, or drawing that can roll up to the individual challenged by physical, mental, or lack of visual ability. It is adjustable in height and can adjust to any angle to promote an upright posture.
The tray is covered with Tumble Forms non slip material, and there is plenty of room on the work surface for someone to interact and help with activities. The tray measures 26" (66 cm) square and is mounted to a tough heavy duty baked enamel steel frame with locking swivel casters. Just touch each lock with you toes and the tray is made secure.
---
Includes:
TriStander frame
Shoes with bar
Hip support
Headrest
Knee support
Trunk support
SPECIFICATION
| | |
| --- | --- |
| Frame: | 21 1/2" W x 38" L |
| Headrest: | 9" W x 9 3/4" H |
| Standard Trunk Support: | 8 1/2" Inside W x 5 1/2" Inside D |
| Hip Support: | 8 1/2" Inside W x 4" Inside D |
| Knee Supports: | 3" Inside W x 2 1/4" Inside D |
| Shoes w/ Bar: | 8 1/2" Inside L x 2 3/4" H |
| Activity Tray: | 23" W x 22" D |
| Medium Trunk Support: | 10" Inside W x 6 1/2" Inside D |
| Head Support w/ Laterals: | 9" W x 9 1/2" H, 3" Side Laterals |
| Adjustable Trunk Support: | 7 1/2" Inside W x 6-7 1/2" Inside D |
| Push Handle: | 7" L x 10" D |
Customers Also Bought