Southwest Medical
Your partner in health and mobility for over 25 years!
TOLLFREE: 800-236-4215
---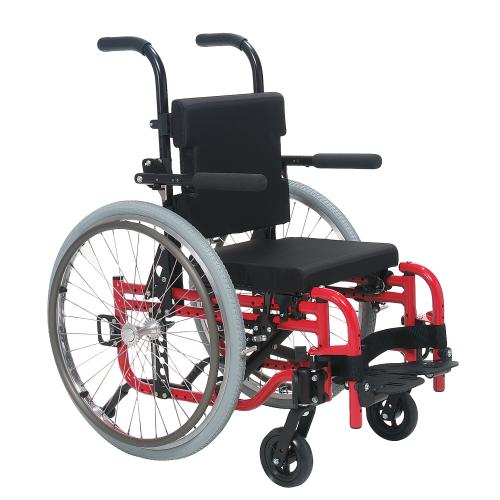 Manufacturer:
Zippie / Sunrise Medical
Part Number:
EIZGS
Retail Price:
$2,335.00
Price:

$1,751.25

Ea
DESCRIPTION
The Zippie GS was designed to easily 'grow' without the need for new parts. So as a child grows, the Zippie GS grows with them. The Zippie GS provides a wide range of width, seat depth and other key positioning adjustments. Reversible wheel configuration, an all new universal axle plate and unique side frames add even more flexibility and stability.
Shown here with optional transit and additional conventional seating system.
The Zippie GS has dual seat rails to allow for ease in installing seating systems, armrests, wheel locks and other accessories without interference problems.
Most solid seat and backs, custom seat and backs and drop seats will mount easily to the frame. A growing solid seat pan is also available. A fully adjustable, universal axle plate allows the Zippie GS to be set up in:standard or reverse configuration, with a seat to floor height under 13", utilizing 12"-24" rear wheels.
The universal axle plate allows half-inch vertical and horizontal adjustments to provide increased wheel access without sacrificing growth potential.The Zippie GS with its universal axle plate meets the child's needs today and can be adjusted to meet their needs in the future.
The Zippie GS is also available with the Sunrise Transit Option. Children often remain in their wheelchairs while being transported to school or play. Sunrise is the first manufacturer to offer an option that addresses transit safety for children in wheelchairs.
The Zippie GS is available with 11 rear wheel, 11 front caster and many armrest and front hanger options.
---
SPECIFICATION
| | |
| --- | --- |
| Built to meet the requirements of HCPCS code: | E1238 (Folding) |
| | E1237 (Rigid) |
| Product Weight: | Approx. 25 lbs. w/o footrests |
| Product Width: | 10 in. - 18 in. seat width |
| Product Length/Depth: | 10 in. - 20 in. seat depth |
| Product Height: | 14 in. - 20.25 in. seat to floor. |
| Weight Capacity: | 150 lbs. - standard |
| Overall Width: | 19 in. - 27 in. |
| Caster Options | 3 in., 5 in., 5X 1.5in, 5 X 2 in., |
| | 6in, 6 X 1.5 in., 8 in., 8 in. X 1.5 in., 8 in. X 2 in. |
| Rear Wheel Options | 12 in., 16 in., 18 in., 20 in., 22 in., 24 in. |
Customers Also Bought