Tumble Forms 2 Universal Grasshopper System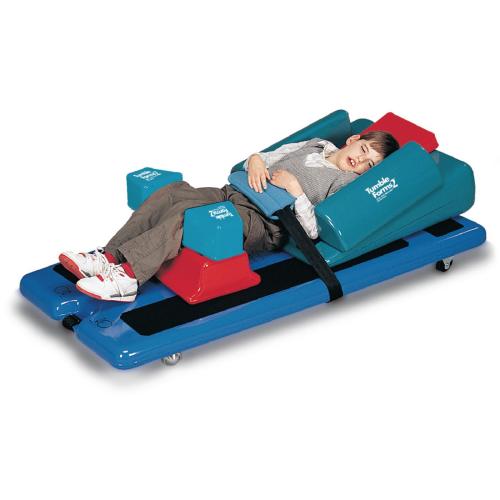 Manufacturer:
Tumble Forms 2
Part Number:
4775
Retail Price:
$2,399.00
Price:
$2,118.00

Ea
DESCRIPTION
The Tumble Forms 2 Universal Grasshopper System comes with seventeen different shapes and forms to aid therapists in positioning children and adults, without resorting to unsanitary pillows and foam. Incorporates adaptive positions like side-lying, prone, supine, long leg and log roll sitting into therapeutic programs. Padded coaster base makes it easy to move client while maintaining adaptive support. Attach Tumble Forms 2 log to Grasshopper base to transform it into an active therapeutic system for vestibular stimulation activities. Latex free. No color choice.
Special Order Item - Ships in 40 (Business) Days.
---
System includes:
Padded Coaster Base with Locking casters, 56" (142cm) long
Trapezoid Module, 5"H x 18"L(13 x 46cm)
Rectangular Module, 5"H x 11"L (14 x 28cm)
Large Wedge, 8" (20cm)high
Accessory Wedge
Two Quater Roll Supports
Three Side Adductor Modules
4'(122cm)log
Two Wrap Straps
Pull Strap
Hip Strap
Side-Lyer Strap
Now with accessory bag!
This Item Ships Directly from the factory (TUMBLE FORMS) and / or made to order.
Ships by Truck, Lift gate Required
REVIEWS
Please review this product!