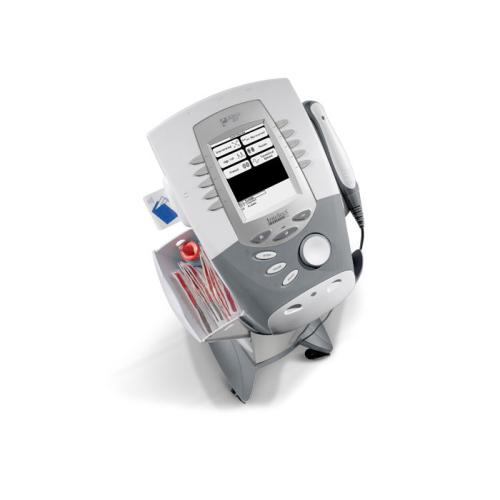 Manufacturer:
Chattanooga
Part Number:
2763
Retail Price:
$3,131.50
Price:

$2,999.00

Ea
DESCRIPTION
The Intelect Legend XT is one of the most advanced therapy systems available. Beneath its award winning, ergonomic design is a sophisticated, versatile, user-friendly system. Engineered to meet the electrotherapy and ultrasound clinicians needs, the Intelect Legend XT delivers a comprehensive range of therapies in a single, state-of-the-art unit. Optional Therapy System Cart integrates with the unit to maximize storage of clinical supplies and cable management.
Easy-to-add modularity allows the addition of two additional Channels of Electrotherapy, Light Therapy or a Battery Module. High contrast 5 (13 cm) FSTN LCD monochromatic user interface. Two independent Electrotherapy channels, expandable to four independent channels. Mulitple waveform electrotherapy six clinical waveforms: Interferential, Premodulated, High Volt, Russian, Symmetrical Biphasic and Microcurrent. Documentation of treatment data with Patient Data Cards. User-defined protocols for your specific needs. Dual frequency Ultrasound at 1 MHz and 3.3 MHz. Pulsed or Continuous Ultrasound Duty Cycles (10%, 20%, 50% and 100%). Choice of four ergonomically designed sound head applicator sizes: 1 x 1 cm, 2 x 2 cm, 5 x 5 cm and 10 x 10 cm.
Optional Operator Remotes allow treatment stop, start and pause, as well as change in amplitude, at any time during a treatment session. Each remote is color-coded for designation between channels.
---
Includes:
5 x Patient Data Cards
Patient Interrupt Switch
5x5 cm Ultrasound Applicator (Combination System Only)
Electrotherapy Leadwire Channel 1
Electrotherapy Leadwire Channel 2
4 x DURA-STICK II 2.75" (7 cm) Electrodes
2 x Black Rubber Carbon 3" (8 cm) Electrodes
2 x Red Rubber Carbon 3" (8 cm) Electrodes
2 x Nylatex Wrap 2.5" x 24"
Conductor Ultrasound Gel: 8.5 oz (250 ml) Bottle (Combination System Only)
SPECIFICATION
| | |
| --- | --- |
| Dimensions: | 12.75" L x 11.4" W x 8.75" H (32.4 cm x 28.9 cm x 22.2 cm) |
| Weight: | 7 lb (3.2 kg) |
| Mains Power: | 100-240 VAC~50/60 Hz, 1.0 A |
| Electrical Safety Class: | Class 1, Electrotherapy Type BF, Ultrasound Type B |