Southwest Medical
Your partner in health and mobility for over 25 years!
TOLLFREE: 800-236-4215
---
Quickie Breezy 600 Lightweight Wheelchair - Discontinued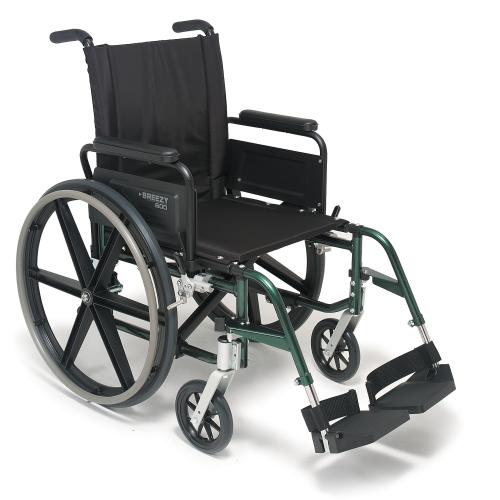 Manufacturer:
Breezy / Sunrise Medical
Part Number:
EIB60
Retail Price:
$1,980.00
Your Price:
Out of stock
FEATURES
Adjustable Casters
4 Color Options
Anodized Aluminum Hand Rims - No Charge Option.
Swing Away Footrests Included
Dual Seat Heights
DESCRIPTION
The Quickie Breezy 600 lightweight wheelchair is the next generation of the popular Breezy product line and Quickie's most popular high quality lightweight wheelchair. Its a great choice for anyone seeking a light, easily portable wheelchair at an economical price.
The Quickie Breezy 600 frame and cross bars are constructed of lightweight aluminum. This eliminates the unnecessary weight that most lightweight steel framed wheelchairs use. Additionally, the lighter weight allows for easier maneuverability within most any space.
The lightweight frame also allows for seat height adjustments ranging from 13" to 20.5" right out of the box making the Breezy 600 a suitable option for many different users and environments. From foot propelling to easy transfers to beds and other tall surfaces, the Breezy 600 has a solution for you.
The Breezy 600's versatility is in its numerous options. A variety of footrests, armrests, tires, plus unique features including One Arm Drive and projection hand rims make the Breezy 600 a great option to meet a wide range of needs.
---