Southwest Medical
Your partner in health and mobility for over 25 years!
TOLLFREE: 800-236-4215
---
Quickie LXI Ultralight Wheelchair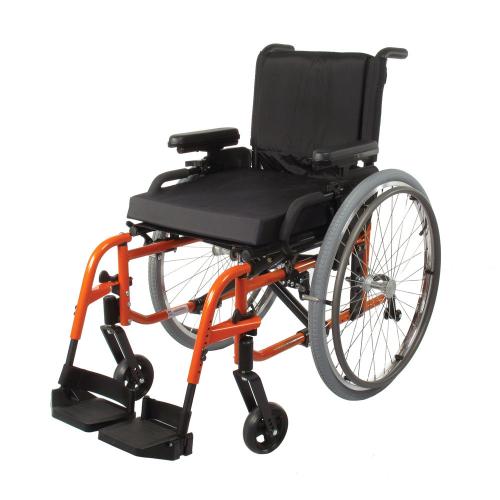 Manufacturer:
Quickie / Sunrise Medical
Part Number:
EILXI
Retail Price: $3,200.00
Your Price:
Out of stock
DESCRIPTION
Quickie LXI ultra lightweight folding manual wheelchair is the perfect value solution for today's rehab needs. Key among ultralight wheelchairs is a highly adjustable axle plate, which helps ensure the proper seat angle, center-of-gravity, & wheel camber. The LXI also features 24 standard and custom color choices, swing-in/out footrests, transit option, and performance options such as Spinergy wheels.
Quickie LXI wheelchair supports some of the most exciting wheels in today's wheelchair market. For pure performance, consider the Spinergy SPOX and LX wheels in 22", 24", 25", and 26" sizes. For more outdoor pursuits, both 24" and 26" mountain wheels are now available.
When it comes to handrims, the choices are dazzling: Natural Fit and Natural Fit LT with standard grip rim, super grip rim, and no thumb grip rim; standard anodized aluminum rim; plastic coated rim; and 8 oblique and 8 vertical projection hand rims! Whether you are looking for high performance or quad assistance, the LXI offers a full range.
Nothing turns heads like a great custom color. The LXI takes custom colored frames to a new level. For example: the Quickie LXI offers six different camouflage colors. Over half match current or recent US military uniform patterns. For something more colorful or different, consider Berry Vibrations, Stars and Stripes or Graphite.
For the clinical professional who needs to elevate a user's leg, the Quickie LXI and LX feature a complete set of tools: a standard elevating legrest, a shorter 90 elevating legrest, and an articulating footrest. For increased maneuverability, the Quickie LXI axle plate features optional built-in camber angles of 0, 3, and 5 degrees. A one-arm drive option, perfect for amputees, is also available.
---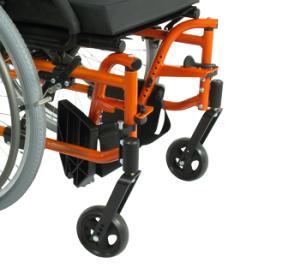 Compatibility
The Quickie LXI features many of the same swing/out footrests, legrests, footplates, rear wheels, casters, backrests, and accessories as the other members of the Quickie ultra lightweight folding family. This commonality helps dealers reduce inventories and easily interchange parts when required.
---
Options
The revamped Quickie LXI is filled with a host of hot new options. A few of the more unique include: transit option, Spinergy wheels, mountain wheels, camouflage frame colors, Case Logic side pockets, Natural Fit handrims, and military service patches.
---
Value
The LXI offers outstanding value in an ultra lightweight folding wheelchair. For example, 15 standard frame colors, swing-in/out hangers, and a camber-angle adjustable axle plate (shown) are all available at no additional charge. Add these features to Quickie's longstanding reputation for durability and you create a value package second to none. Additionally, many upcharge options are now offered at no-charge. Among the favorite being 24in spoke rear wheels.
---
Tradition
The new Angle Adjustable Backrest continues a strong tradition of rehab focused Quickie chair options. This unique backrest ensures that the pivot point of the backrest matches the pivot point of the spine, a key consideration when fitting a long-term user.
SPECIFICATION
| | |
| --- | --- |
| Built to meet the requirements of HCPCS code: | K0005 |
| Product Weight: | Approx. 28 lbs. w/o footrests |
| Product Width: | 12 in. - 20 in. seat width |
| Product Length/Depth: | 12 in. - 18 in. seat depth |
| Product Height: | 16.25 in. - 21.25 in. seat to floor. |
| Weight Capacity: | 265lbs. - Standard |
| Overall Width: | 20 in - 28 in. |
| Caster Options | 5 in., 5X 1.5 in., 6 in., 6 X 1.5 in., 8 in., 8 in. X 2 in. |
| Rear Wheel Options | 20 in., 22 in., 24 in. |
REVIEWS
Please review this product!