The BeasyTrans transfer board is a portable transfer system that is designed to transfer an individual from a wheelchair to an automobile, bed, commode, or shower bench, etc. A safe seat supports the user's weight as the transfer occurs. The friction is borne by the system, not the user's skin.
The circular seat rotates 360 degrees to easily turn the user to the exact angle for comfortable placement. With friction less, sliding transfer technology, the BeasyTrans allows even the smallest caregiver to transfer patients weighing up to 400 lbs. using a smooth lateral glide.
The secret is the way the seat moves smoothly across the base. Since there is no lifting involved, it helps to reduce back and brachial plexus type injuries.
The BeasyTrans transfer board is currently sold throughout the United States and represented in over 30 countries. They have been placed in 200 top accredited rehabilitation centers as part of our "Rehab Program".
Over 150 Veterans Administration facilities are using and recommending the BeasyTrans.
Also known as the Beasy Board or Beasy Transfer Board.
The disc moves in a friction less manner and rotates 360 making it easy sit, turn and move down the board. The seat supports the user's weight as the transfer occurs.
It is recommended that transfers always occur with a caregiver or attendant present. Because of the special design, no lifting is required, reducing physical strain on the caregiver. These systems have helped many individuals remain at home, continuing treatments, if needed, as an outpatient.
---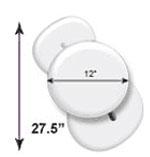 BeasyTrans Systems are totally portable. With the BeasyTrans Systems, most users can achieve regular access to an automobile. For some, this may mean a greater quality of life. The visiting of friends and relatives may be resumed. Educational and cultural undertakings can be attended. The systems may even allow the user to live at home while receiving outpatient care, rather than living in a long term facility and even for travelling!
Tissue Friendly - Elimination of Skin Friction
It's a well documented fact: lifting leads to injury. For example, patient movement tasks statistically place nursing personnel in the top percentile of the U.S. labor force for back injuries. At the same time, the person being lifted is at risk for arm and brachial plexus type injuries as well as back injuries from being torqued or twisted. The risk of such injuries is tremendously reduced when lifting is eliminated. The frictionless, lateral slide is clearly the state of the art in patient transfer.
Versatility
The design of the BeasyTrans Easy Transfer Systems make it possible to apply sliding technology to a wide range of transfer and therapeutic functions in both the clinical and home care environment. For example, strategic placement of the Beasy seat under a draw sheet allows a minimum number of caregivers to easily perform such difficult transfers as bed to gurney, supine, or boosting of patients.