Contour Supreme Reclining Articulating PVC Bath Chair
Manufacturer:
Inspired by Drive (Columbia Medical)
Part Number:
Retail Price:
$654.00
Price:

$520.00

Ea
DESCRIPTION
For children and adults who need extra positioning and support when bathing or just lounging around in the park or television room.
Improved positioning and comfort for the user due to the ability to adjust the angle between the seat and back.
---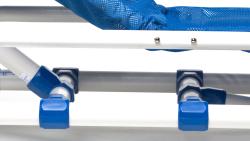 Durability
Bacterial and fungal resistant ComfortMesh seat cover and Medical Grade PVC combine to provide a great long term solution for daily bathing at home or in a clinical setting.
---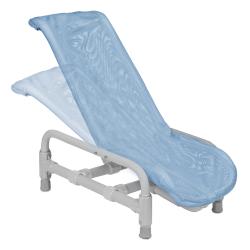 Adjustability
With the simple push of a button (no tools required), five different seat to back angles can be adjusted on the fly (0°, 15°,30°,45°,60°) and three different leg to seat angles can be created (0°, -15°,-30°) providing the parent or caregiver with multiple bathing options.
---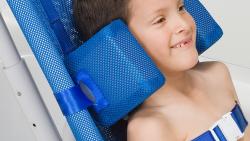 Positioning Support
Two standard positioning belts that can be used in multiple positions provide postural support for the user. Additional belts and supports can be added (accessories) to further enhance positioning efforts.
SPECIFICATION
| | | | |
| --- | --- | --- | --- |
| Size: | BCCS-8510S | BCCS-8610M | BCCS-8710L |
| Weight Capacity: | 100lbs. | 130lbs. | 180lbs. |
| Height Capacity: | < 40" | 40" - 54" | 54" - 68" |
| Overall Length: | 35" | 45" | 53" |
| Seat Depth: | 13" | 17" | 20" |
| Back Height: | 21" | 30" | 34" |
| Inside Seat Width: | 12" | 12" | 17" |
| Outside Width: | 17.75" | 17.75" | 24.5" |
| Base Length: | 27.5" | 27.5" | 27.5" |
| Seat Height Above Floor: | 9.25" | 9.25" | 10.25" |
| Weight: | 14lbs. | 15lbs. | 21lbs. |