Versa Bath Shower/Commode/Bath Transfer System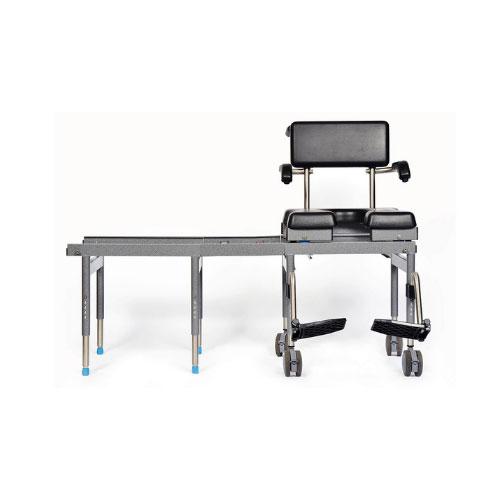 Manufacturer:
Inspired by Drive (Columbia Medical)
Part Number:
BTV-5100
Retail Price:
$4,745.48
Price:

$3,745.00

Ea
DESCRIPTION
Lightweight multi-purpose system for transfer over the bath, use in roll-in shower, as a stand alone or over the toilet commode. Reduces the need for multiple pieces of equipment.
Versa Bath Transfer System reduces the need for multiple pieces of equipment. Combines hygiene activities to minimize user transfers. Designed for independent use, or with assistance. Shower door or curtain can be drawn when bridge is removed.
Easy to use and easy to assemble. System comes complete and ready to use.
---
Easy To Use and Versatile

The Versa Bath adjusts to fit over most bathtubs to allow for easy transfers over the tub/shower.

Bridge can be removed to allow shower doors and curtains to be closed.

In many cases the unit can transition from over an adjacent toilet directly into the tub/shower area.

Versa Seat rolls over most all toilets as an over toilet rolling commode. Clearance adjusts up to 20 inches.
SPECIFICATION
| | |
| --- | --- |
| Weight (Chair/Rolling Base) | 40 lbs |
| Weight (Bridge) | 4.8 lbs |
| Weight (Tub Base) | 15 lbs |
| Weight Capacity: | 300 lbs |
| Overall Chair Depth with Footrests/without footrests | 40/28 |
| Overall Width (Chair) | 21 1/2 |
| Seat Dimensions | 20 W x 18 D |
| Tub Base at Top | 20 W x 18 1/2 D |
| Tub Base at Bottom | 18 W x 18 D |
| Seat Hole | 9 W x 14 1/2 L |
| Inside Seat Width Between Arms | 19 |
| Back Width Overall | 16 1/2 |
| Back Height From Seat | 15 |
| Seat Height Adjustment Range ( 3/4in Increment) | 24 1/2 - 27 1/2 |
| Overall Length (Transfer Base) | 53 |
| Maximum Clearance Height (Toilet/Tub) | 20 |
| Standard Connecting Bridge Length (Between Rolling Base and bath tub bench) | 13 |
| Adjustable Bridge Lengths (Optional) | 13 1/2 - 21 3/4 |
| Fixed Bridge Lengths Available | 6 to 12 |
| Heel to Knee Range ( Footrests Included ) | 17 1/2 - 23 |
| ( All measurements in inches ) | |