Always fitting. The four telescopic grab handles of the Mobeli system are very flexible because thanks to the telescopic grab bar the handle can be placed in any desired way and on nearly any tile grid, only dependent on the length of the telescopic grab handle. The only precondition is a tile grid of at least 5.5" x 5.5" (140 x 140 mm) and a firm, plane, and non-porous surface for attachment.
The handles are particularly well-suited for travelling; with only a few moves they can be disassembled and stowed away in your luggage without taking up much space. Disassembled, the smallest telescopic grab handle even disappears in a jacket pocket.
---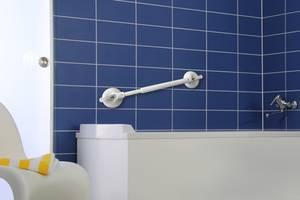 Mobeli telescopic grab handles offer you the widest possible choice for positioning. Whether to promote independence, for domestic or ambulatory care, the quick and easy attachment of the Mobeli grab handles has satisfactorily proven itself many thousand times.
---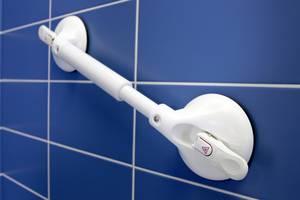 The telescopic grab handle enables horizontal, vertical, and diagonal positioning on every tile grid of at least 5.5" x 5.5" (140 x 140 mm). Worth mentioning: Tile bordering dimensions can be easily bridged with the telescopic grab handle.