RAZ Rehab Shower Commode Wheelchairs are designed and manufactured to the highest standards of the discerning healthcare professional.
The RAZ-SP rehab shower commode chair comes standard with 4" of seat height adjustment, an adjustable-tension fabric backrest, 22" rear wheels, 5 dual-locking casters, flip-up padded armrests, and an elongated commode pan. The easy-to-clean, polished stainless steel frame is designed for easy side and front access by the user or attendant.
Only RAZ offers the Ischial & Pelvic Alignment System (IPAS),which allows the commode seat aperture to be comfortably centered around the ischial tuberosities for clients with a posterior or anterior rotated pelvis. With so many adjustments and options available, the RAZ-SP is a true prescriber-friendly, rehab shower chair.
---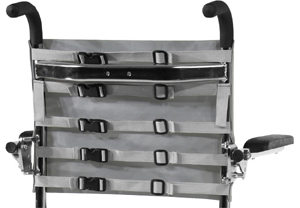 Adjustable Tension Fabric Backrest
Polyester fabric is durable and comfortable for the user. Backrest has adjustable tension to provide a more supportive and comfortable posture. Removable and machine washable makes caregivers tasks simplier.
---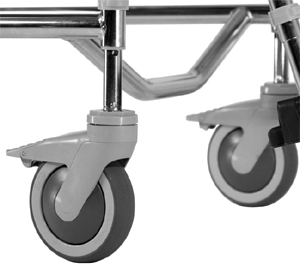 Telescoping Caster Extensions
Telescoping casters allow for up to 4" of floor to seat height adjustment. The dropped front frame tube offers improved access over standard toilet bowls.
---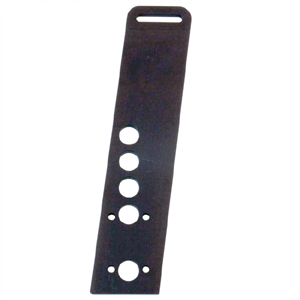 Adjustable Axle System
Adjustable rear axle design allows for up to 4" of seat height adjustment. Additionally, the axle system can be adjusted for center of gravity, making the RAZ SP easier to propell and manuever.