Nestle Arginaid Arginine-Intensive Orange Flavor Drink Mix Powder, 9.2g Packet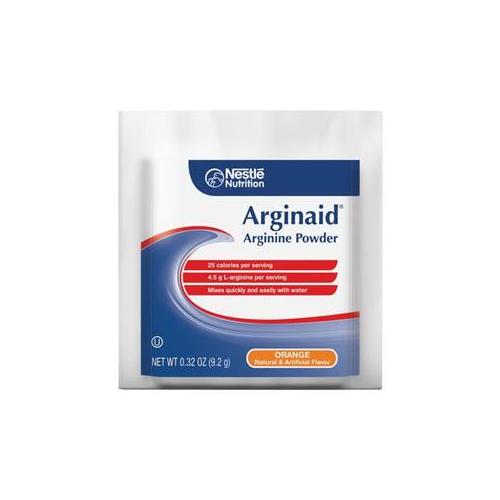 Manufacturer:
Nestle Clinical Nutrition
Part Number:
85359830
Price:

$2.75

Ea
DESCRIPTION
Elevate your nutrition with the ARGINAID drink mix powder. This ready to serve oral supplement delivers 4.5 grams of supplemental L-arginine per serving, alongside vital vitamins C and E. This unique mix was tailored for individuals recovering from burns, surgery, or chronic wounds.
With just 30 calories and 5 grams of carbohydrates per serving, it's an ideal fit for those adhering to calorie or carbohydrate restrictions. The most impressive aspect of this oral supplement is its effortless blending with water, fruit juices, applesauce, or yogurt, providing a hassle-free way to integrate essential vitamin C, vitamin E, and L-arginine into your routine. Opting for the invigorating orange flavor ensures each sip is not only delicious but also a health-conscious choice.
---
Ingredients(Orange Burst): L-Arginine, Citric Acid, Malic Acid, Sodium Ascorbate, Maltodextrin, And Less Than 2% Of Modified Food Starch, DL-Alpha-Tocopheryl Acetate, Aspartame*, Acesulfame Potassium, Natural and Artificial Flavor, Color (Beet Juice, Turmeric and Annatto Extracts) *Phenylketonurics: Contains Phenulalanine
Due to the moderate acidity (pH 3.04.0) of ARGINAID Arginine Powder, consult with a medical professional prior to use in a surgical jejunostomy.
SPECIFICATION
| | |
| --- | --- |
| kcal/mL: | 0.13 |
| Caloric Distribution (% of kcal): | Protein: 47%* |
| | Carbohydrate: 53% |
| | Fat: 0% |
| Sodium: | 30 mg/9.2g |
| Supplemental L-arginine: | 4.5 g/9.2g |
| Vitamin C: | 156 mg/9.2g |
| Vitamin E: | 40.9 mg/9.2g |
| NPC:N Ratio: | 28:1 |
| Osmolality (mOsm/kg water): | 170 |
| Water: | 83% |
| | * L-Arginine provides nitrogen but is not considered a protein source |