Southwest Medical
Your partner in health and mobility for over 25 years!
TOLLFREE: 800-236-4215
---
Invacare Reliant 350 Stand-up Lift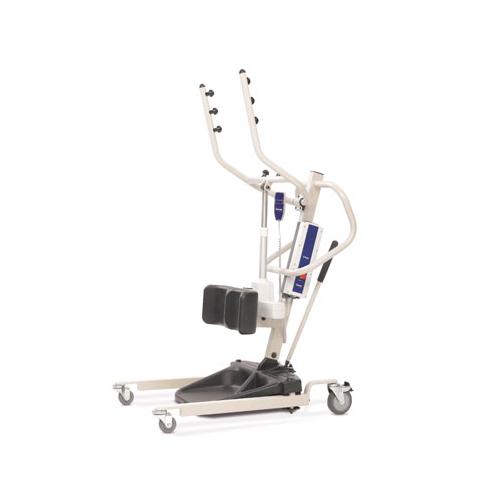 Manufacturer:
Invacare
Part Number:
RPS350-1
Retail Price:
$5,161.65
Price:

$4,395.00

Ea
DESCRIPTION
Invacare Reliant Stand-Up Lift Model no. RPS350. Comfortable and secure, the Invacare Reliant Stand-Up lift is the answer to your patient transport needs. Reliant's ergonomic styling and easy maneuverability make it an ideal product for everyday patient handling. With its numerous safety features, the Reliant Stand-Up lift ensures caregiver security and resident peace of mind. Ideal for use with weight-bearing or fully dependent patients as well as those needing rehabilitation support, the Invacare Reliant Stand-Up lift will be a valuable addition to your safety-management system.
Adjustable pivoting leg support features a soft pad with lateral contour that secures legs in three positions for comfort at any height- Wide non-slip footplate provides stable base for transfer. Under-bed clearance of 4.5in allows accessibility to most nursing home, hospital and home care bed styles. Removable battery eliminates downtime.
Ergonomic features make it ideal for toilet transfers, as well as for dependent and rehabilitation purposes Features include fast, simple sling attachment that protects against accidental disengagement; wide push handle; good access for clothing removal; and comfortable slings with extended back support that prevents pressure in the axilla area.( Sling Not Included )
Innovative adjustment features adapt to a wide variety of body sizes and shapes. That means comfort at any height, width and weight range up to 350 lb.- Multifunction slings can allow for quick toileting, stand assist or full-support seated transfer. Adjustable leg strap option secures leg against knee pad for optimum positioning on footplate. Warranty includes three years on lift, one year on electric components.
---
Standing slings assist individuals that can support the
majority of their own weight in a standing position.
Multiple hook up points adjust to body sizes.

**NOTE: Individuals that use the Standing Sling (Model R130)
MUST be able to support the majority of their own weight, otherwise
injury can occur.
The Reliant R134 Transport slings transfer fully
dependant individuals in a seated position.
Transport slings hook under the patient's Legs
and support their torso. Multiple hook up points
adjust to body sizes.
SPECIFICATION
| | |
| --- | --- |
| Base Length: | 35.5" |
| Base Width: | Open: 36.8" Closed: 25.7" |
| Power: | Two removable 24-volt battery packs |
| Charger: | One charger output 24-volt DC |
| Lifts Per Charge: | 150 - 300* (*Varies w/ lift range & load) |
| Casters: | Front: 3" Rear: 5" (locking) |
| Base Height: | 4.5" Clearance |
| Max Height at sling hookup: | 63.7" |
| Min Height at sling hookup: | 39.6" |
| Weight: | 115lbs. |
| Weight Capacity: | 350lbs. |
REVIEWS
Please review this product!