Miniwalk II Gait Trainer - New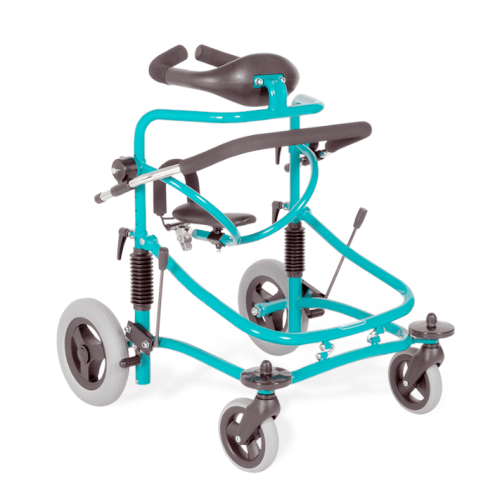 Manufacturer:
Meyland-Smith
Part Number:
106062
Retail Price:
$3,497.00
Price:

$2,875.00

Ea
DESCRIPTION
Miniwalk II pediatric gait trainer from Meyland-Smith in Denmark is the newest model of walking supports for small children from approximately 3 to 10 years of age. The walking support is based on the dynamic design of the Meywalk. With each step, the spring compresses and assists with transition to swing through to the next step. It is this movement that allows for the up and down movement during gait as one transitions from heel strike, to toe-off, and through to swing through. Growth adjustments are easily made without tools, and the body posture of the child can be set in any position from vertical to 15 degree forward tilt, making it possible to find the body inclination that gives the child the best stepping pattern.
The Miniwalk II is suitable for indoor as well as outdoor use, and is easily adaptable within the classroom.
---
When comparing other walkers to the Meywalk and Miniwalk Gait Trainers, please remember that gait is not a linear movement. As a person steps forward, the pelvis moves down in relation to the floor, allowing for heel-strike (which provides stability) and toe-off (which provides forward propulsion). The Meywalk has a unique "spring assist" system which not only allows for this movement, but also assists the user to come back up into the mid-phase of gait.

Most pediatric and adult Gait Trainers do not allow for this up and down movement. As a result, users must find atypical ways to elicit forward propulsion, such as "pulling through" or providing lift through their forearms.
An adult displays approximately 10 cm difference in pelvic height between the mid-phase and toe-off, and most children exhibit 4-6 cm dependent on their height.
What would happen if a gait trainer did not allow for this movement
Does any other pediatric or adult gait trainer that you are looking at have this capability
Gait trainers are utilized with a wide variety of diagnosis, including Cerebral Palsy, Post Closed Head Injury, Post CVA, Geriatric Rehab and a variety of other disabilities when strength and equilibrium are compromised.
SPECIFICATION
| | |
| --- | --- |
| Length: | 29" |
| Width: | 25.5" |
| Seat/groin height: | 14" - 25" |
| Trunk support height: | 27" - 35" |
| Wheel size, front: | 6" x 1 1/4" |
| Wheel size, rear: | 10" x 2" |
| Weight: | 33 lbs. |
| Weight Capacity: | 90 lbs. |
| Shipping Dimensions: | 24 X 21 X 30 |