Rifton Large Supine Stander (TranStander)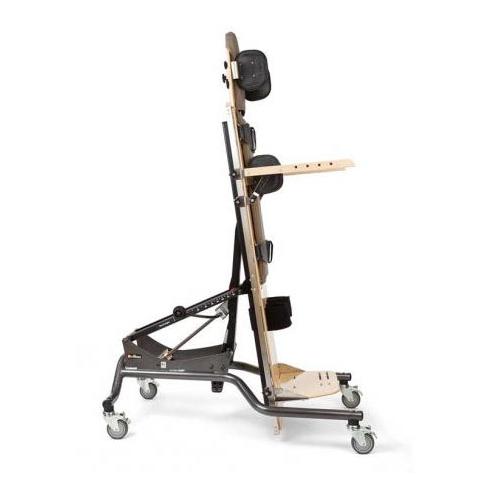 Manufacturer:
Rifton Equipment
Part Number:
E41
Price:
$4,900.00

Ea
DESCRIPTION
The Rifton Large Supine Stander (formerly the TranStander) is for children from 46"-72" in height. Supine standing provides head support with partial weight-bearing. In the Rifton Supine Standers, children can stand at eye level with their peers. Adjustable supports on the standing aid allow for functional alignment and the child's arms are free for activities. Supine standing provides head support with partial weight-bearing.
---
Height Adjustability In The Horizontal Position
The Rifton Large Supine Stander adjusts from 21" up to 30" for optimal positioning during transfers. Lowering to 21", the Rifton Large Supine Stander accommodates sitting transfers from most chairs/wheelchairs. Still horizontal, it can raise to any height up to 30" to accommodate other transfers, such as lying transfers from a bed or gurney.
Base Frame:
The Rifton Large Supine Stander has a strong, stable base frame with 71" board accommodates patients up to 250 lbs.

Adjustable Abduction Wedge:
Optional use of abduction block, with available collar for 2 additional width, or use of abduction wedge with a variance of 5" - 11" width, as well as knee straps for lower extremity positioning.
Sandals and Wedges:
The sandals keep feet positioned correctly and can be adjusted to the individual by moving them in and out, backward and forward. Used in conjunction with the wedges, the sandals of the stander even out weight distribution
Easy-To-Use Manual Crank:
As the board approaches near vertical, it takes fewer revolutions of the crank to move more degrees, due to the mechanics of the base frame. Gas assist makes for easier, smoother cranking. And being manual, it is far more reliable than electric or hydraulic adjustments with their high failure/replacement rates.
Calibration Markings:
The Rifton Large Supine Stander has calibration markings on the frame base useful for specifying positioning.
Lateral Support Blocks:
Lateral support blocks can slide out of the way prior to transfers. Used for positioning, the lateral support blocks can slide in as close as 8" or 9", and as far apart as 16".
Low Footboard:
The low footboard of the Rifton Large Supine Stander allows patient to be close to a normal, peer-friendly upright position. Although best left as close to the floor as possible for the patients security, the footboard is also height adjustable to optimize positioning for caregiver intervention depending on the height of the patient.
Unique S-Curved Base Frame:
The unique s-curved base frame of the Rifton Large Supine Stander provides clearance for transfer devices and a better stance for caregivers during the transfer process.
SPECIFICATION
| | |
| --- | --- |
| Board Length and Width: | 71" x 19" |
| Distance Between Lateral Supports | 9" - 16" |
| Height When Horizontal : | 21" - 30" |
| Height When Vertical: | 74" |
| Base length and width: | 46.5" - 29.5" |
| Weight Capacity: | 250lbs |
| Optional Tray Dimensions: | 26" x 15" |
REVIEWS
Please review this product!