EasyStand Evolv Medium standing frame was redesigned and engineered by Altimate Medical's team of dedicated designers using clinical and consumer feedback as the foundation. With a focus on positioning, modularity, and accessibility, the Evolv sit to stand medium stander is the next generation of sit to stand technology.
New easy to configure design makes designing the ideal stander for your specific needs easier.
Now with more options than ever to accommodate your standing frame needs.
The EasyStand Evolv Medium fits individuals from 4'0" - 5'6" (122-168 cm) and up to 200 lbs (90 kg).
NOTE: The EasyStand Evolv Medium standing frame has replaced the EasyStand 5000 Youth standing frame.
---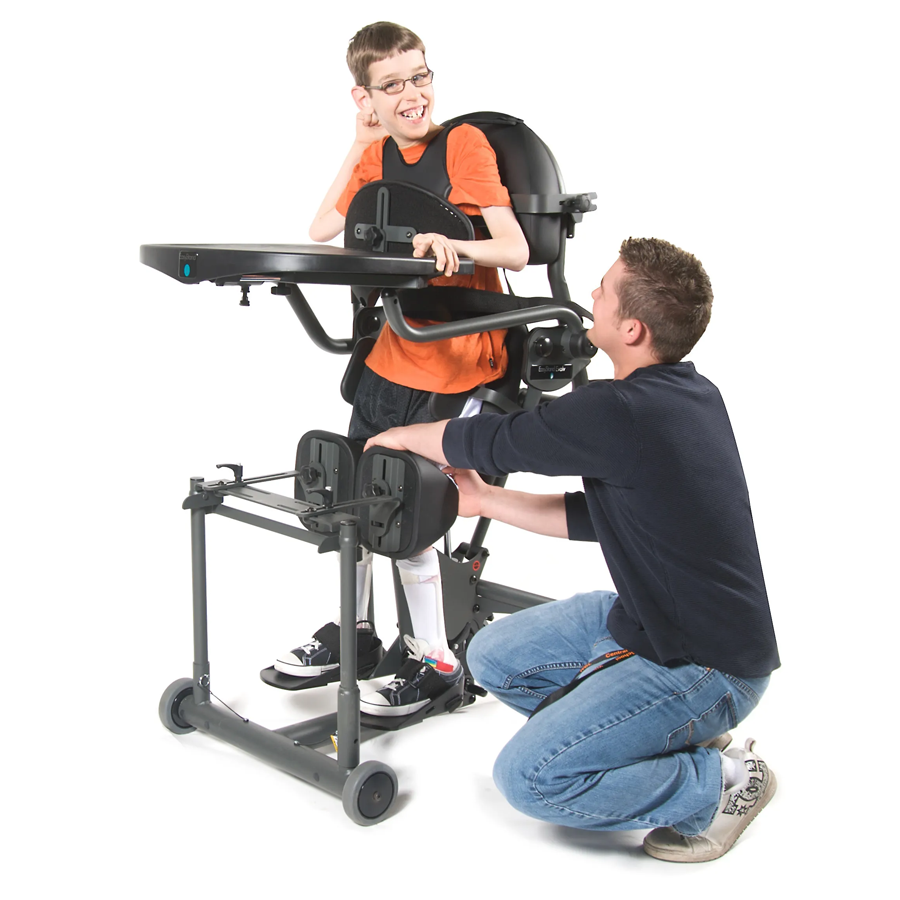 Positioning Advantage
EastStand Evolv Standing Frames was designed to provide the most supportive and comfortable sit-to-stand standing frame available.
Strategically placed pivot points match that of the body allow all positioning accessories function seamlessely.
Evolv Standing frames also can accommodate hip and knee contractures through proper positioning of knee pads and foot plates.
---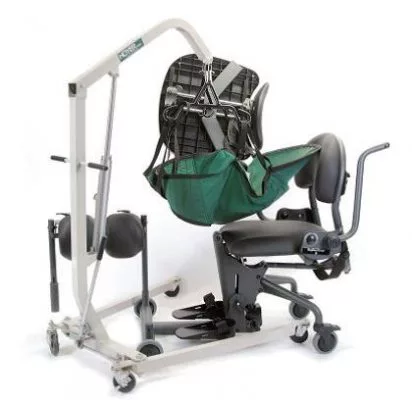 Modularity
The EasyStand Evolv is the most modular stander to date; allowing an array of options and configurations such as the Shadow Support Tray to be added at any time.
Accessibility
The base of the Evolv has open rear legs and a center frame that provides accessibility for users who transfer with a patient lift. The open base and wider seat also allow for easier independent transfers. Patient lift transfers are also simple and quick.
---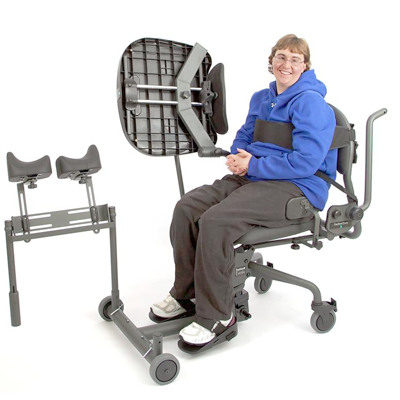 Convenience
The EasyStand Evolv allows the user to be standing in three easy steps (transfer, adjust, and pump up). Other more complex standers have straps lift the seat instead of a direct lift, forcing the user to complete nine steps before standing. A convenient power-up option is also available.
Comfortable
The upholstery on the EasyStand Evolv is made of soft black Dartex. The multi-direction stretch in the kneepad and seat provide a more natural fit with your body. The seat is contoured to provide a comfortable and precise standing position.
---
Minimal Maintenance
Like all EasyStand products, the Evolv is low maintenance. There are no gears or straps to worry about. The hydraulic pump has proven reliability. The Evolv is easy to use and easy to assemble. Plus, it is backed up by a solid warranty and great customer service.
---
Basic Evolve Medium Standing Frame Includes:
Casters
Manual hydraulic actuator
Contoured seat
Flip-up kneepad
Adjustable height footplates
Molded tray
Transfer handles
Black Dartex upholstery.
You can select from a wide variety of options and accessories to meet your specific needs.
---
Frequently Asked Evolv Stander Questions:
What are the most common options selected on the Evolv Standing Frame?
Most common options selected include a backrest, foot straps, and the Shadow Tray option.
Do casters come standard with the EasyStand Evolv?
Yes. 2 locking casters come standard with th Evolv.
Who fits in the EasyStand Evolv Medium?
The EasyStand Evolv Medium fits people from approximately 4'0"-5'6" and up to 200 lbs. See the specifications for more information.
Can a person transfer into the EasyStand Evolv with a Hoyer-type Patient Lift?
Yes, the EasyStand Evolv works well with various types of patient lifts, including a Hoyer-type lift. The open frame allows a lift to be positioned under the back legs of the frame. The Swingaway Front options also assist in this type of transfer.