Southwest Medical
Your partner in health and mobility for over 25 years!
TOLLFREE: 800-236-4215
---
Natural-Fit Wheelchair Handrims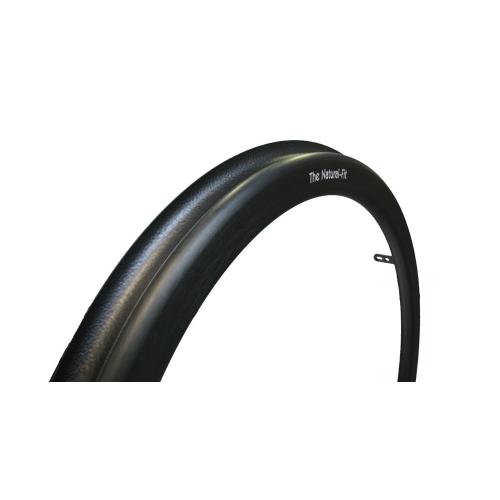 Manufacturer:
Out Front / Three Rivers
Part Number:
NATURAL-FIT
Price:

$295.00

Pr
FEATURES
Best Ergo Wheelchair Handrim
Achieve better performance and effciency.
Ease pain in the hands and wrists
Have great control when braking
Eliminates the need to push on the tire
DESCRIPTION
Natural-Fit wheelchair handrims are the ideal wheelchair pushrim for improved wheelchair propulsion and less stress on hands and fingers . Available in two profiles and two grip levels.
Research shows that repeatedly gripping small objects leads to carpel tunnel syndrome and pain in the hands and wrists. Why should you care Because wheelchair users push their small round wheelchair hand rims an average of 2,500 times per day. Surveys have repeatedly shown that the Natural-Fit ergonomic shape reduces pain in the hands and wrists.
The Natural-Fit uses the original, larger profile oval and weighs 19 ounces whereas the Natural-Fit LT uses a reduced weight, smaller profile oval and weighs only 15 ounces.
The Standard Grip uses a powder coat on the thumb piece that provides a low friction surface to go along with the smooth braking surface on the oval. The Super Grip uses an advanced copolymer coating that provides a higher friction surface on the thumb piece (it is similar to a vinyl coating). This provides a grippier propulsion surface for your thumb.
For those users interested in the ergonomic features of the Natural-Fit but who do not like high friction surfaces, then the standard grip may be your best choice. For users who want both the ergonomic benefits of the Natural-Fit along with a grippier propulsion surface, the Super Grip will be the better choice.
---
---
Ergonomic Wheelchair Hand Rims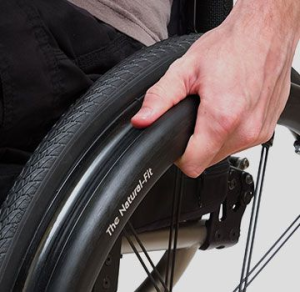 Natural fit design
The natural fit hand rims are designed to reduce stress on hands and fingers through the unique profile and thumb guard. Larger surface area for hands to fit more naturally and thus less stress in griping for extended periods.
---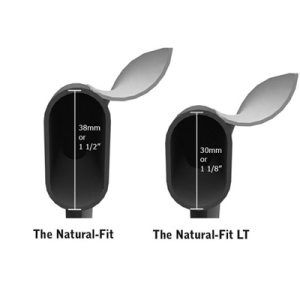 Two Hand Rim Profiles
Natural fit offers two hand rim profiles to suite the individual user. The standard profile offers an 80% larger surface area over the standard wheelchair hand rim, and weighs only 24oz per hand rim.
The LT hand rim is a smaller profile ergonomic design ideal for the user who is wanting a lighter weight with the advantages of the ergonomic shape. LT hand rims are about 5oz heavier than the standard round wheelchair hand rim.
---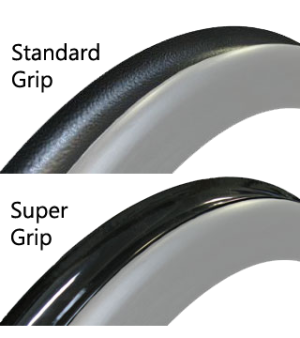 Thumb Grip Options
The thumb guards provide a rest for the thumb as well as a barrier from fingers getting in between the hand rim and the wheel rim. Available in two styles.
Standard Grip Thumb Guard
Standard Grip thumb guards have a textured finish that provides both grip and slip.
Super Grip Thumb Guard
Super Grip thumb guard is coated and has a high level of friction. Coating is similar to a wheelchair hand rim vinyl coating.