Ki Mobility Ethos Ultralight Wheelchair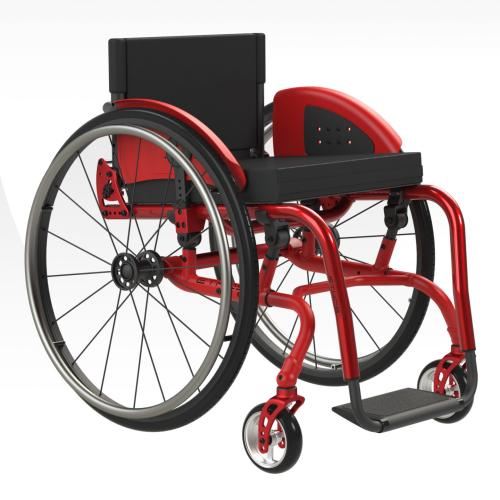 Manufacturer:
Ki Mobility
Part Number:
ETHOS
Retail Price:
$2,995.00
Price:

$2,096.50

Ea
DESCRIPTION
The Ki Mobility Ethos rides like nothing you have ever experienced before. Scientifically proven vibration damping technology diminishes vibrations received by the body during normal use. The result is a ride so smooth that cracks and crevices disappear in the wake of every push.
This is combined with an exceptionally rigid lower frame design that results in the ultimate high-performance ride. Ethos provides an uncompromising combination of ride quality and performance.
Not only that, the Ethos is the definition of customized to meet your needs. Control everything from how you sit, how you look, how you interact with your environment and the quality of your ride. Countless color combinations and unmatched optimization creates a ride adaptable to your lifestyle. Ethos is the only chair that truly lets you determine how you ride.
The Ki Mobility Ethos - Designed by riders. Defined by you.
---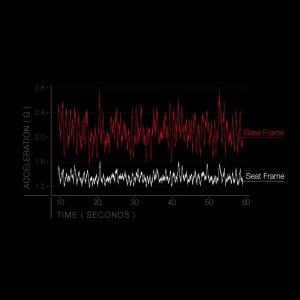 Unmatched Vibration Reduction
Using intelligent Isolation Technology (ISO Tech), Ethos gives you an amazingly smooth, personalized ride experience. ISO Tech consists of four scientifically optimized polymers that isolate the seat frame.
Ethos was instrumented to measure and compare the rate and frequency of vibrations experienced at the seat frame vs. the base frame during actual use. As a result of ISO Tech you can see the dramatic reduction of vibrations that reach the seat frame. The result is a smoother ride with every push.
---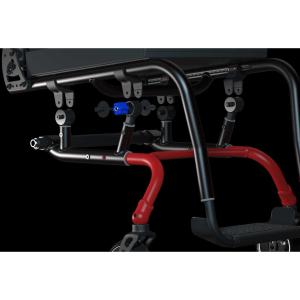 Responsive Performance
Ethos is the ultra-lightweight custom ride that feels as though it floats beneath you. Rigidity is designed into all the right places giving you superior responsiveness. The perfect marriage of strong agile responsiveness and comfortable performance.
---
Defined By You
Control everything from how you sit, how you look, how you interact with your environment and the quality of your ride. Countless color combinations and unmatched optimization opportunities create a ride adaptable to your lifestyle.
SPECIFICATION
| | |
| --- | --- |
| Seat Width: | 12" - 20" (30 - 51 cm) |
| Seat Depth: | 14" - 20" (36 - 51 cm) |
| Front Seat Height: | 13.5" - 20.5" (34 - 52 cm) |
| Rear Seat Height: | 13.5" - 20" (34 - 51 cm) |
| Camber: | 0°, 2°, 4°, 6°, 8° |
| Tubing Size: | 1-1/8" (2.86 cm) |
| Transport Weight: | 11.6 lbs (5.26 kgs) |
| Weight Capacity: | 275 lbs (124.7 kgs) |
REVIEWS
RATING:
Total Reviews: 1
2/6/2021 7:03:19 AM
Review by,
William from TX
I am an L3 incomplete who suffers with sciatica. Read the reviews, took the leap and ordered the Ethos. Too quicky sum up the experience riding this chair in a word: "Wow!"
I would call myself active, doing my own housekeeping and shopping. Configured the chair with MAXX wheels, tubed tires, single sided front forks, 4 x 1.5 soft roll casters, standard seat sling, height adjustable folding seat back with the adjustable tension air mesh soft back. Added
.5 inches of rearward adjustment room for the back in case I want to add a hard back at a later date. Ordered the chair with "Firm" bushings for a sportier ride experience.
So you may ask: "What does the ride compare to?" My other chair that I now call my "house chair" is a popular aluminum "Z" model chair with Spinergy LX wheels, tubed tires and Froglegs forks. Standard seat sling and J3 back round out the picture.
The Ethos set on "Firm" rides a bit smoother than the above configured chair with a definite reduction in shocks to my spine transmitted from the rear axle.
Where the Ethos shines over the above configured "Z" is when you impact a bump such as a carpet threshold the Ethos does not suffer the feeling of mono tube deflection or the unnerving slow speed "slingshot" effect you can get from Froglegs.
By comparison, the Ethos remains stable, planted and crosses thresholds and small bumps more confidently. Set on Firm, the chair "feels" like it transfers power to the ground more direct than my "Z". What is greatly improved is the loss of front end dive making small bumps at slow speed safer and transfers much easier.
I own sets of Spinergy, Shadow and Topolino Carbon Core wheels. The MAXX wheels are sleek, sexy narrow hub steel spoke wheels that feel solid and lightweight. They spin straight and I see no reason to upgrade from them.
My Ethos is compact, 16W x 17L with a 16.5" seat to foot rest. Ordered with a 1" from taper and my shoes just barely fit between the front casters. Very tidy, but if I had to do it all over again, I would have skipped the taper.
What I don't care as much for:
Standard aluminum hand rims. Hard anodized, which is good but very loud and almost bell like when you use them. Great at the market when you are rounding a corner and want everyone to be aware you are coming, but not so fabulous when the wife is trying to sleep. Plan on upgrading those.
Clothing guards. Ordered the standard plastics. Pretty stiff and solid, no issue there. Problem is with the mounting. They drop in with ease, but rattle. When I say rattle I mean RATTLE. Really annoying if you have tile floors. The fix was to put a small piece of masking tape on both wide sides of the bracket and that shut them up, for the most part. Still annoying that there is no way to tension them.
Compact wheel locks are awesome and the color options are killer.
Hope this helps .. cheers!