Southwest Medical
Your partner in health and mobility for over 25 years!
TOLLFREE: 800-236-4215
---
TiLite Aero Z Adjustable Mono-Tube Wheelchair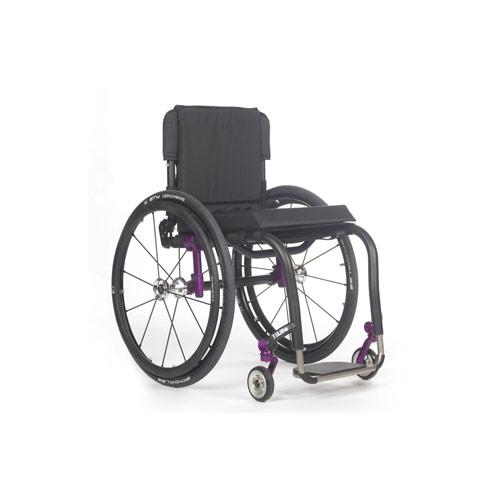 Manufacturer:
TiLite
Part Number:
AZFS1
Retail Price:
$2,995.00
Price:

$2,012.00

Ea
DESCRIPTION
The new TLite Aero Z Series 2 Wheelchair features the SpeedLoader Adjustable Front Caster Housing (patent pending) that quickly and accurately adjusts the Fork Angle in 1 Increments. Highly Adjustable Camber Mount incorporates TiLites Tru-Fit System with up to 3.5 of Rear Seat Height Adjustment. Slipstream Single-Sided Fork with Integrated Bumper (patent pending). TiLite's new Performance 5-Spoke Soft Roll Wheel weighs just 1.6 ounces, shaving 40% from the weight of the original, 3-Spoke Wheel.
TILite applied the technology and design from their titanium line to the new Aero Z and the results are amazing. Revolutionary style in a completely custom made, ultra lightweight aluminum wheelchair. From components like TiLite's trademark soft roll casters to seat widths and center of gravity choices. The new Aero Z offers more selectable options than any other chair in its class.
Like it's popular titanium brother, the Tilite ZRA, the Aero Z has many of the same popular performance characteristics. This makes the AeroZ a wise choice for an aluminum rigid performer.
---
FIT.
When we say custom, we mean it. Send us your personal specifications and we will build your Aero Z Series 2 entirely from scratch - in less than 10 days.
PERFORMANCE.
Wheelchairs that perform well combine superb fit with unparalleled quality of construction and the right blend of options. You owe it to yourself to experience the super smooth ride of a custom-built wheelchair that fits perfectly. It will perform as well in 5 years as it does today.
CHOICE MATTERS.
TiLite always focuses on three pillars of design: Function, Materials and Aesthetics. We understand how these pillars interact and work in harmony to create a superior chair. Because we know that choice matters, within each of these pillars we provide as many options as possible so that the choice rests with you. Our goal will always be to build the best possible manual mobility. We will never settle for less. Will you
SPECIFICATION
| | |
| --- | --- |
| Chair Weight: | 13.2 lbs. |
| Center of Gravity: | Adjustable |
| Front Wheel Angle: | Adjustable |
| Seat Width: | 12" - 20" |
| Seat Depth: | 12" - 20" |
| Front Seat Height: | 16" - 21" |
| Rear Seat Height: | 14" - 20" |
| Seat Back Type: | Folding Seat Back |
| | Adj. Height 8-1/2" to 20-1/2" |
| | Adj. Angle 80° to 101° |
| Camber: | 0°, 2°, 4°, 6°, 8°, 12°, 15° or 18° |
| Front Frame Angle: | 70°, 75°, 80°, 85° or 90° |