Southwest Medical
Your partner in health and mobility for over 25 years!
TOLLFREE: 800-236-4215
---
Quickie Zippie IRIS SE Pediatric Tilt Wheelchair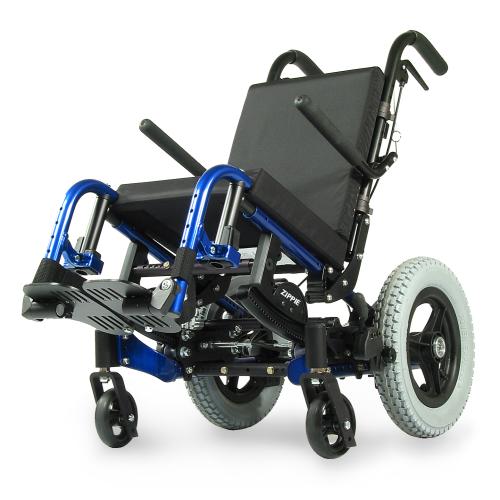 Manufacturer:
Zippie / Sunrise Medical
Part Number:
EIZ5A
Retail Price:
$2,954.00
Price:

$2,215.50

Ea
FEATURES
Special aluminum alloys make the Quickie IRIS one of the lightest manual rotation-in-space chairs in today's market.
The Quickie IRIS features a special angle-adjustable stroller handle that quickly adjusts to a variety of caregiver heights.
A patent-pending backpost bracket allows repositioning of the backpost seat-depth without removing the attaching hardware.
Specialty options, such as a reclining backrest, vent-and-battery tray, and one-arm drive are all available as "on-chair" options.
A tilt-angle indicator and a set of tilt-stops ship with every chair to provide a precise tilt range and tilt angle-setting.
DESCRIPTION
The newly upgraded Zippie IRIS pediatric tile wheelchair features the revolutionary rotation-in-space design and provides a smaller rotational arc ideally matching the pediatric user's center of gravity.
The Quickie Zippie IRIS Tilt now offers the latest in multiple tilt ranges, swing-in swing-out hangers, and easy adjustments making it the premiere rotation-in-space pediatric wheelchair in its class. The result: an astoundingly lightweight, durable, and easily transportable pediatric wheelchair.
Quickie has developed a dramatic new approach to tilting in space. It's called the Quickie IRIS (Intelligent Rotation In Space). Unlike systems that incorporate a fixed pivot-point, dual pivot-point, or linear element, the Quickie IRIS' rotational design is based on the idea of rotating the seat-frame around a user's center-of-gravity. This, combined with up to 60 of posterior rotation and hi-resolution adjustment, provides the ultimate in control, maneuverability, and stability.
Eliminate the need for exposed cables with the Foot Release Tilt Actuator. Never again worry about cable systems getting in the way. It's easy to operate, clean as a whistle and tangle free. With the latest technology and leading designs, Zippie offers a single source pediatric solution by providing the broadest possible option-set making it easier to meet the user's clinical needs.
This super durable hub lock is now 10 times stronger. Rated at 350 lbs, wheels lock securely into place eliminating the dependence on the rear wheel's tire pressure for a secure, locked position. Minimal adjustments are needed and cables are conveniently kept out of the way making engagement of the hub lock a snap. The locking mechanism provides multiple mounting positions for quick and easy access.
The Quickie Zippie IRIS offers the aesthetically pleasing Quickie style height adjustable armrests featuring a contoured arm pad as well as a standard or low mount receiver. The triggers provide a larger surface for all dexterity needs.
Swing-in/Swing-Out Footrests are excellent for confined spaces and are ideal for reduced hand dexterity.
Shown with optional seating components and other accessories.
---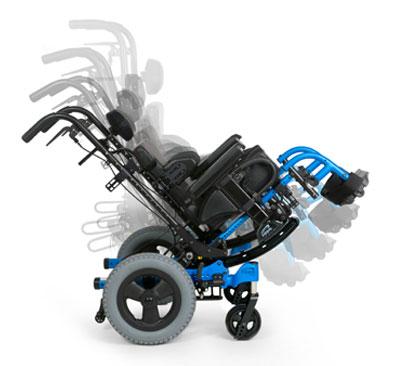 40° or 55° of Intelligent Rotation in Space Technology
With patented Intelligent Rotation in Space technology, the IRIS seat frame rotates around the child's center of gravity. The rotation arm was designed specifically for pediatric users to ensure a smooth tilting motion. It also helps children remain comfortable and secure while tilting, and it is easy for parents and caregivers to control.
Available with 405° or 555° rotation ranges that can be set to achieve up to 45° or 60° of posterior rotation, the IRIS offers superior positioning capabilities.
---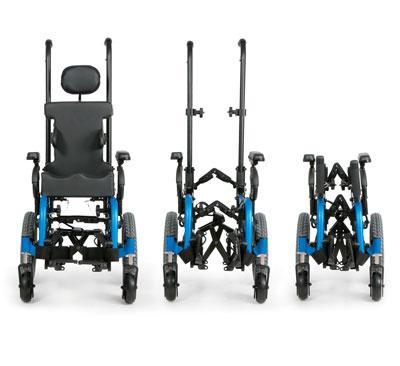 Optional XLOCK Folding Crossbrace
The Zippie IRIS now offers the benefits of both rotation-in-space technology and an optional folding frame. Its patented XLOCK folding crossbrace fully locks when unfolded for superior rigidity, and folds into a compact size for convenient transport.
The Zippie IRIS is more convenient than ever to transport and store. Its patented XLOCK folding crossbrace fully locks when unfolded for superior rigidity, and folds into a compact size for convenient transport.
---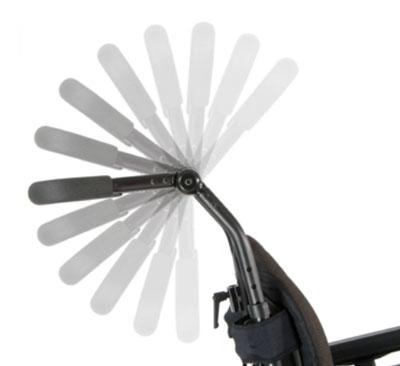 Accessories for Caregiver Convenience
The IRIS is available with a wide variety of options to help you manage daily activities involving your child's care. The Foot Release Tilt Actuator eliminates exposed cables. Push-button hub locks located on the back canes are compact, easy to access, and easy to operate for any caregiver. Standard with the Height Adjustable backrest, the Angle Adjustable Stroller Handle has 260° of angle adjust-ability to fit varying caregiver heights and to enable pushing from a tilted position.
---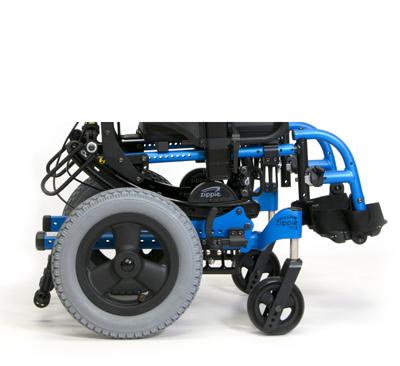 Growth Capabilities
The IRIS is designed to maintain proper support for your child as they grow. The folding frame option offers up to 4" of built-in depth growth and 2" of built-in width growth. The rigid frame option is available with width-adjustable strut tubes.
Additionally, through the True Fit Growth program, the original Zippie IRIS owner qualifies for one free growth kit within 5 years. The growth kit includes all parts and components needed to adjust the seat width/depth of the chair.
REVIEWS
Please review this product!