The Quickie Q200 R is an ultra-compact rear wheel drive power wheelchair that features super tight indoor maneuverability while not compromising on outdoor stability and performance. Even the smallest of spaces can be navigated with its small 22.8 inch width, 42 inch length and 18.3 inch turning radius.
If youre going out, the Q200 R still provides great stability and is ideal for taller users or those up to the 300 pound weight capacity. Uneven and hilly terrain is not an issue up to 8 degrees and curbs up to 3 inches. Its also unbelievably light at only 216 pounds. The fold-down back makes it easy to hoist in and out of vehicles. With the battery life to go up to 15.5 miles on a single charge, you'll have plenty of time to make detours for other adventures along the way.
This model of the Q200 R features a rehab seat which offers a sleek looking minimal design and alleviates weight capacity concerns if you need to attach other equipment. The traditional back canes easily fit a range of JAY backs, and the clamp hardware allows infinite height adjustment. Alternatively, you can choose from a height-adjustable sling back with adjustable straps. Youll be able to choose from a selection of compatible Whitmyer or SEDEO head supports if needed as well.
Customize your Q200 R with a choice of six vibrant color inserts that look great with the matte black shroud and a load of additional optional features mean youll be able to get exactly what you need.
The Quickie Q200 R is the perfect balance of size and performance. Why settle for less?
---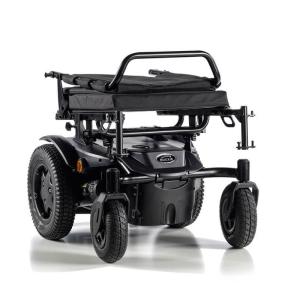 Compact for easy transportation
The Q200 R power chair weighs just 216 pounds (98 kg),so it can be hoisted in and out of vehicles with ease. Worried about space? The fold-down back and removable legrests/armrests should allow it to fit snugly in most cars or nicely store away at home.
---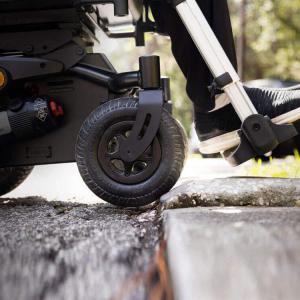 Curbs are just a bump in the road
The Q200 R provides great traction when driving up ramps because the chair weight shifts towards the rear drive wheels. When traveling outside at higher speeds, the Q200 R tracks straight so you are in complete control. With 9" front casters, driving over obstacles like 3" curbs is not a challenge.
---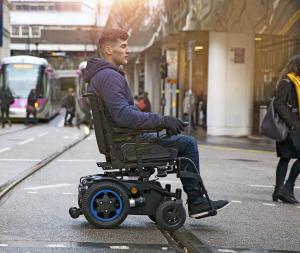 Get all you need down without worry
The Q200 R power wheelchair loves a spin around town, long city trips, as well as tackling more challenging or hilly terrain. With the battery life to go up to 15.5 miles on a single charge, you'll have plenty of time to make all the stops you need to make.