Giraffe Bottle Hands Free Wheelchair Drinking System
Manufacturer:
Giraffe Bottle
Part Number:
5049XX
Price:

$79.95

Ea
FEATURES
Wheelchair ready
Various neck lengths available
Tritan BPA free bottle
Check valve prevents liquid from flowing back into bottle
Aluminum bottle holder included
Modular design for easy part replacement
Dishwasher safe
DESCRIPTION
Everyone needs to stay hydrated. For some, this can be a difficult task. That's where the Giraffe Bottle Hands Free Wheelchair Drinking System comes in. It's designed to be flexible and easy to use. The perfect wheelchair accessory, this water drinking system helps people with disabilities, injuries, or other conditions including cerebral palsy or multiple sclerosis.
The Tritan, BPA free 25 ounce / 750 mL bottle is clear for easy fluid monitoring and can be mounted to a wheelchair or walker using the included aluminum bottle holder. The real advantage to this system is a long drinking tube that can be manipulated and held in place where you want it using a flexible neck. The check valve at the end of the drinking tube keeps liquid from flowing back into the bottle reducing the effort needed for drinking.
The drinking tube and flexible neck comes in several length options up to the maximum of 36 inches / 92 cm ensuring the right size for where you want to mount the Giraffe Bottle - whether it's on your wheelchair, walker, scooter or other device. System components can be replaced quickly and easily as needed and replacement parts are available.
While dishwasher safe, hand washing is recommended for the drinking tube and modular neck. So each Giraffe Bottle kit comes with a cleaning brush specifically designed to clean the drinking tube.
Staying hydrated is important and shouldn't be difficult for anyone. With the Giraffe Bottle Hands Free Wheelchair Drinking System, it can be easier.
---
A Complete Kit
Included with each Giraffe Bottle Hands Free Wheelchair Drinking System:
25 oz. / 750 mL Bottle, Tritan BPA Free
Modular Hose Neck
Drinking Tube
Check Valve
Cleaning Brush
Aluminum Bottle Holder with Rotating Clamp
---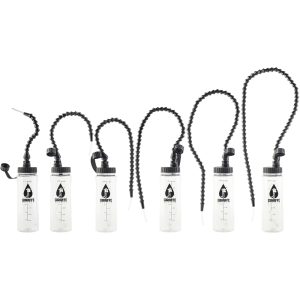 Multiple Lengths and Flexible Neck
With several length options as well as an flexible neck that allows you to manipulate the drinking tube exactly where you want it, the Giraffe Bottle truly is a hands free drinking system. This is an ideal water bottle solution for quadriplegics.
---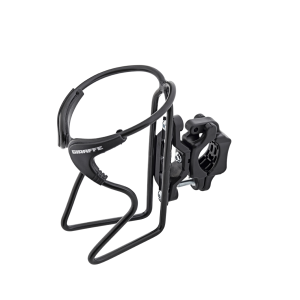 Aluminum Bottle Holder Holds Tight
Mount your Giraffe Bottle on a wheelchair, walker, scooter or other device with the specially designed aluminum bottle holder included with your drinking system. The holder itself holds the bottle firmly in place while the rotating clamp allows for mounting on a vertical or horizontal tube that is .75 inch to 1.25 inch.
DOCUMENTS
REVIEWS
Please review this product!