Hoyer Advance Power Patient Lift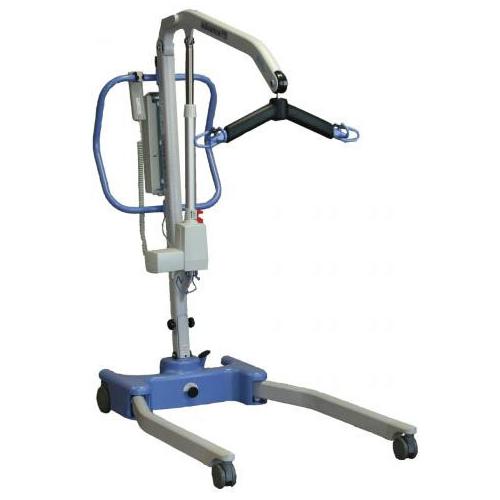 Manufacturer:
Hoyer
Part Number:
HOY-ADVANCE-E
Retail Price:
$3,369.00
Price:

$2,493.00

Ea
DESCRIPTION
The Hoyer Advance Power Patient Lift is a revolutionary product when it comes to patient lifting technology. Designed with the patient's comfort and safety in mind, this product has been optimized for portability and ease of use. With a compact design, push footpad for reduced effort, and no tools required to fold, the Hoyer Advance Power Patient Lift offers maximum convenience.
In addition, it also features an easy-to-use control panel which allows the user to adjust lifting speed and height as well as other settings. The control panel also displays battery life, which can be monitored to ensure that the lift is ready to go when needed. Furthermore, the Advance Power Patient Lift utilizes a powerful motor for efficient and reliable lifting performance.
Overall, the Hoyer Advance Power Patient Lift is designed to provide users with an effortless and comfortable patient lifting experience. Its lightweight and portable body make it ideal for those who need to lift themselves or others while on the go. Additionally, its easy-to-use control panel and powerful motor make it the perfect choice for both caregivers and patients alike. With its innovative design and intelligent features, the Hoyer Advance Power Patient Lift is the perfect choice for anyone who requires the use of a lifting device.
---

The Hoyer Advance can also be folded, or separated for transportation. Unlike other products on the market the Advance needs NO tools or special attachments to achieve its compact / folded position (Power Model Shown).
SPECIFICATION
| | |
| --- | --- |
| Mast Base & Boom Assembly Weight: | 64 lbs. |
| Power Pack Weight: | 5 lbs. |
| Base Assembly Weight: (not incl. battery) | 33lbs. |
| Boom Weight: (not incl.battery) | 31 lbs. |
| Product Length/Depth (Maximum): | 51" |
| Product Length/Depth (Minimum): | 49" |
| Product Height (Maximum): | 71" |
| Product Height (Minimum): | 23" |
| Weight Capacity: | 340 lbs. |
| Folded Dimensions: | 17.7" High x 46.5" Deep x 21.6" Wide |
| Batteries (power only): | 12 volt rechargeable sealed lead acid type |
| Battery Capacity (power only): | 3.2 ampere hours |
| Charger Rated Input (power only): | 230Vac 50/60Hz |
| Charger Rated Output (power only): | 27.4/29.0 VDC@0.8A |
| Spreader Bar Max. Height: | 5' 4.5" |
| Spreader Bar Min Usable Height: | 1' 3" |
| Spreader Bar Height @ Max Reach: | 3' 9" |
| Spreader Bar Reach @ Max Height: | 2' 4" |
| Spreader Bar Reach @ Min Height: | 1' 7" |
| Spreader Bar Max. Reach: | 2' 9" |
| Spreader Bar Turning Radius: | 3' 5" |
| Leg Open External Width: | 42.5" |
| Leg Open Internal Width: | 39.5" |
| Leg Closed External Width: | 25" |
| Leg Closed Internal Width: | 22" |
| Overall Height of Legs: | 4.5" |
| Casters: | 3.3" Front, 4" Rear (Braked) |
| Sling Use Type: | Hoyer Grey Looped |