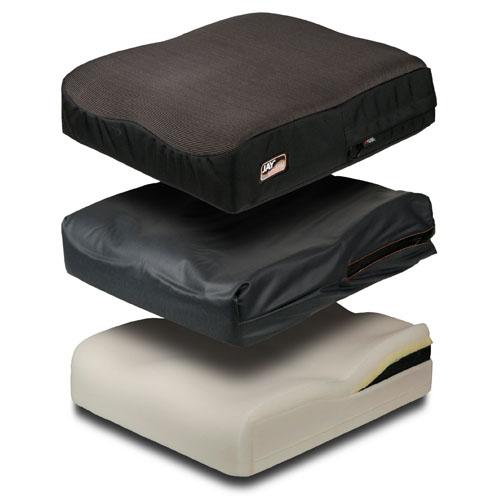 Manufacturer:
Jay / Sunrise Medical
Part Number:
JU
Retail Price:
$498.00
Price:

$373.50

Ea
DESCRIPTION
The JAY Union Cushion provides high performance tissue protection and positioning without extensive fitting considerations. It accomplishes this via a dynamic fluid-foam layering system that maximizes the Visco memory foam's ability to contour to the user's shape. This technology, joined with JAY's state-of-the art cover technology, combine to create a cushion with outstanding performance characteristics that is also cool and comfortable.
The JAY Union's inner cover features specially coated anti-wicking seam thread to prevent moisture from wicking through the seam holes. This same type of thread meets US Military specifications.
Beneath the middle fluid-layer on the JAY Union cushion is a contoured structural base that includes a pelvic loading area (or well) and two lateral pelvic wedges. This construction helps promote lateral stability for the user while sitting and prevents the cushion's side walls from collapsing if a user leans to one side or the other. This is an extremely important benefit to those requiring lateral trunk stability.
The inner cover also features specially coated Aqua-guard zipper designed to repel moisture. Its zipper uses a reverse coil to lock the fluid resistant coating sections together. As a result, the inner foam stays dry and odor free.
The inner moisture-resistant polyurethane-coated cover is made with Lycra. This remarkable material allows the cover to easily stretch and conform to the individual's shape. Without the ability to stretch, there is always the potential for surface-tension pressure to develop under the user's ischial tuberosities, which can increase the potential of a tissue breakdown.
Since the inner cover is not the problem area for odors, the Union's outer X-static cover is impregnated with silver. Silver helps eliminate bacteria and also binds with ammonia and denatured proteins to accelerate the odor reduction process.
X-static silver impregnated fiber fabric is made with 99.9% pure silver, a naturally occurring element.
---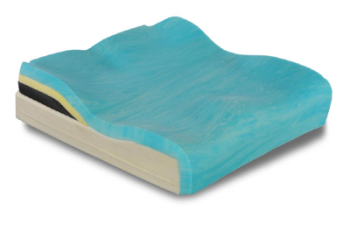 Contoured Foam Base with Lateral Pelvic Support
Jay Union's foam base is moderately contoured to encourage proper positioning of the pelvis and thighs. 1" lateral pelvic wedges offer superior lateral stability and alignment of the pelvis for more involved positioning needs.
---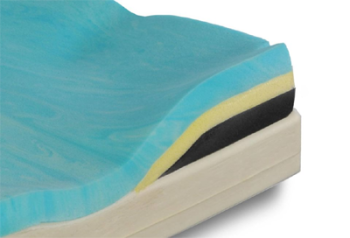 MemGel Swirl Memory Foam Top Layers
Jay Union cushion features a top layer of soft, gel-infused Visco memory foam with an extra layer covering the Pelvic Loading Area. This combination creates the ultimate wheelchair seating surface that distributes weight for pressure reduction and maximum comfort.
---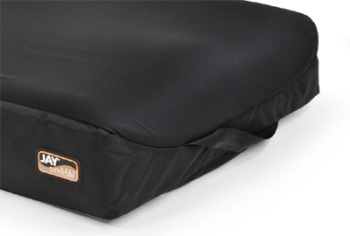 Innovative Dual-Cover System
For convenience and protection, the JAY Union wheelchair cushion features a dual-cover system. The water-resistant inner cover is easy to clean and includes anti-wicking seam thread and Aqua-guard zipper for foam protection. The machine-washable, stretch outer cover utilizes naturally anti-microbial, silver-impregnated X-static fiber. A layer of 3DX spacer fabric promotes airflow for additional skin protection.
---
SPECIFICATION
| | |
| --- | --- |
| Weight: | 5.25 lbs (based on 16" x 18" size) |
| Width: | 14"-24" |
| Length / Depth: | 14"-24" |
| Weight Capacity: | 300 lbs : 14"-21" wide |
| | 500 lbs : 22"-24" wide |
| Outer Cover: | X-Static with Ballistic Nylon |