Southwest Medical
Your partner in health and mobility for over 25 years!
TOLLFREE: 800-236-4215
---
1. Choose Manufacturer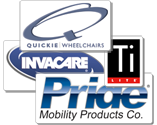 2. Choose Product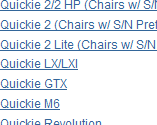 3. Select Part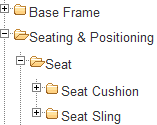 4. Add to Cart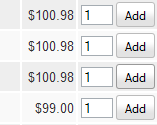 Loading...
Catalyst 4
Frame

Front Frame

Rear Frame

Side Frame Assembly

Cross Braces

Axle Plate

Transit Brackets

Casters, Forks And Stems

Anti-Tips

Wheels

SoftWheels

Wheels

Handrims

Tires

Tubes

Rim Strips

Wheel / Tire / Handrim Assemblies

MAXX Mag Wheel / Tire / Handrim Kits

Spoke Wheel / Tire / Handrim Kits

Wheel / Tire Assemblies

Wheel Locks

Seat Upholstery/Seat Pan

Backrest

Back Upholstery

Discontinued Back Upholstery

Footrests

Hangers

Hanger Extensions

Footplates

Armrests

Side Guards

Accessories

Calf Straps

Bags

Pelvic Positioning Belts
Catalyst 4
Name: Catalyst 4: Catalyst 4 Tires - Pneumatic
Manufacturer: Ki Mobility
Tire Component Chart | Tire Compatibility Chart | Wheel & Tire Outside Diameter ReferencePneumatic Tires listed here cannot be combined with the Airless Inserts listed on the Pneumatic with Airless Insert pages.
Attachments:
| Pos. | Part # | Description | Remarks | Price | UOM | Buy |
| --- | --- | --- | --- | --- | --- | --- |
| 1a - 3 | 118154 | Tire 20" x 1 3/8" Pneumatic (Black), Inner Tube and Rim Strip Kit | | | EA | |
| 1b - 3 | 110002 | Tire 22" x 1 3/8" Pneumatic (Gray), Inner Tube and Rim Strip Kit | | | EA | |
| 1b - 3 | 118208 | Tire 22" x 1 3/8" Pneumatic (Black), Inner Tube and Rim Strip Kit | | | EA | |
| 1c - 3 | 118216 | Tire 24" x 1 3/8" Pneumatic (Black), Inner Tube and Rim Strip Kit | | | EA | |
| 1a | 116843 | Tire 20" x 1 3/8" Pneumatic, Black | | | EA | |
| 1b | 100634 | Tire 22" x 1 3/8" Pneumatic, Gray | | | EA | |
| 1b | 116735 | Tire 22" x 1 3/8" Pneumatic, Black | | | EA | |
| 1c | 116736 | Tire 24" x 1 3/8" Pneumatic, Black | | | EA | |